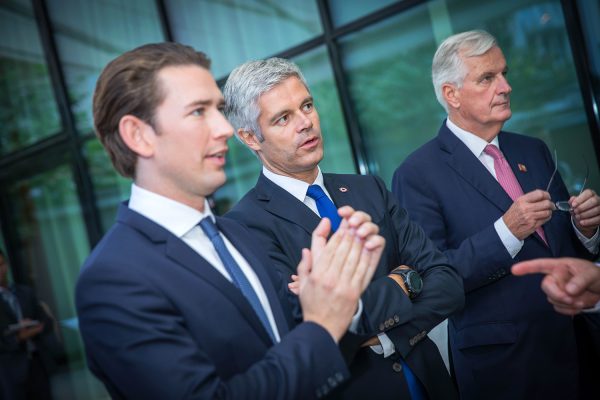 The Financial Times wonders if Austria's Sebastian Kurz is the savior of Europe's center-right or an enabler of the far right.
His supporters, including the liberal-minded former prime minister of Finland, Alexander Stubb, see the Austrian as the antidote to Orbanism:
He talks about an open world, internationalism and is pro-European. But he is pragmatic about solving issues. And one of the big issues is immigration.
Critics argue that by taking a hard line on immigration, Kurz is legitimizing the far right. "You don't fight fire with kerosene," according to former chancellor and former Social Democratic Party leader Christian Kern.
Austrian luxury
My own view is that conservatives should be wary of imitating Kurz. Few have his luxury of appealing to nativists — banning the burqa as well as foreign funding of mosques and going behind Germany's back to do a deal with Balkan countries to stop refugees — without losing support in the center.
Austria is a right-wing country. The Freedom Party still got 26 percent support in 2017, close to its 1999 record of 27 percent. Kurz' People's Party got 32 percent and remains there in the polls. The Social Democrats take another 25 percent. The liberals, Greens and far left split the remainder. There is no big centrist party.
By contrast, conservatives in France and Spain, where Laurent Wauquiez and Pablo Casado have imitated Kurz' lurch to the right, must compete with powerful centrists: Emmanuel Macron's En Marche! and Albert Rivera's Citizens.
No Kurz magic
Wauquiez, who is trying to win back voters from the National Rally (formerly National Front) by returning his Republicans to what he calls the "true values of the right", is fourth in presidential polls, behind Macron, Marine Le Pen and Jean-Luc Mélenchon.
Casado's harder line on abortion, Catalan separatism and immigration has neither helped nor hurt his party in the polls. It still hovers around 20 percent, down from 33 percent in the last election. The Citizens are also at 20 percent, up from 13.
Far from preventing the rise of a far-right rival, Casado's People's Party has been forced into a pact with the neo-Francoist Vox in Andalusia. Shrinking the distance between the mainstream right and the far right has only made it easier for some Spanish voters to switch.