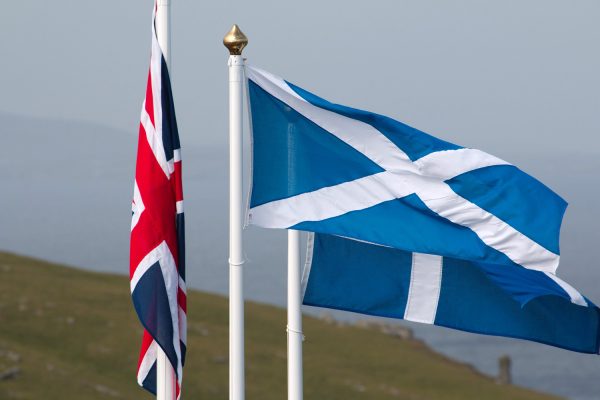 Without an agreement to regulate Britain's withdrawal from the EU, a majority of Northern Irish and Scots would rather remain in the bloc than in the United Kingdom.
Even with the deal Prime Minister Theresa May has negotiated, which provides for a two-year transition out of the EU and avoids a hard border between Northern Ireland and the Republic of Ireland, a majority of Scots would prefer to break away from the UK.
Scotland
When asked if they want independence or not, most Scots still say no.
But if the alternative is leaving the EU, support for independence jumps to 53-59 percent, Panelbase finds (PDF) — depending on whether the UK exits with or without a deal.
Northern Ireland
The deal is even more important to Northern Ireland, as it includes a "backstop" to keep the border with Ireland open. Unless and until the two sides find a better solution, the whole of the United Kingdom would remain in a customs union with the EU, avoiding the need for border controls.
While the Democratic Unionist Party (DUP) of Northern Ireland, who give May a majority in Parliament, oppose the backstop, LucidTalk finds (PDF) that most Northern Irish voters support it. 65 percent would even support Northern Ireland remaining in the EU customs union and single market without Great Britain, which would create the need for a customs border in the Irish Sea.
If there were a referendum on Northern Ireland's status, 48 to 56 percent say they would definitively or probably vote to leave the UK in favor of a united Ireland — again depending on whether or not there is an orderly Brexit.
Blame Conservatives
Conservatives aren't entirely to blame. There would be significant support for Scottish independence even under a Labour government and the sectarian divisions in Northern Ireland go back generations.
But they have neglected their responsibility to the union in recent years.
Conservatives gave credence to English nationalism by promising "English votes for English laws". (Northern Ireland, Scotland and Wales have devolved legislatures, England does not.)
Rather than seeking a "soft" Brexit that might appease the majorities in Northern Ireland and Scotland who voted to remain in the EU, Conservatives pursued a hard break — leaving the customs union and single market — that ends freedom of movement and puts exports at risk.
When they lost their majority in 2017, Conservatives made a deal with the DUP that upset the balance of power in Northern Ireland. Pro-European and pro-Irish nationalists feel left out.