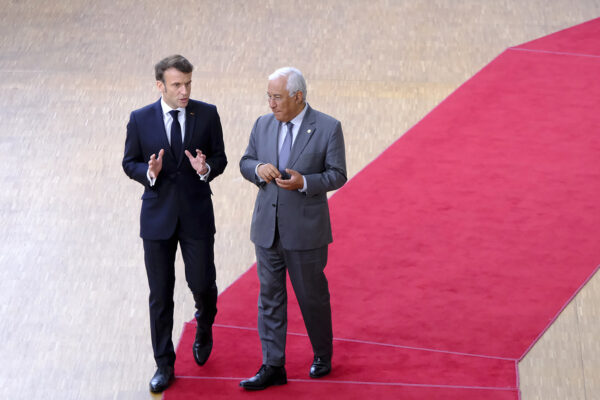 Emmanuel Macron in an "untenable position" (The New York Times). His "leadership" is "at risk" (AP). His "legitimacy" has "suffered" (Foreign Policy). French democracy is "in crisis" (Süddeutsche Zeitung). No, it is already "broken" (The Guardian).
Big, if true.
Macron is always on the verge of catastrophe
We've seen this movie before.
In the run-up to the 2022 election, The Economist argued Macron's "troubles" had opened up a "space" for Marine Le Pen. The Telegraph predicted he would "go down in history as the president who handed France to the far right."
Macron won reelection with 59 percent.
When reactionaries donned yellow vests to protest an increase in fuel tax, Time magazine believed it "exposed" just how "fragile" Macron's hold on France had become. Der Spiegel worried he could lose his status as "superstar" politician of the West (which they had given him).
He went on to hire 10,000 cops, make dental services, eyeglasses and hearing aids free, reform state funding of religious institutions, tighten laws against online hate speech, and he spent €100 billion, or 4 percent of GDP, on a COVID-19 stimulus program that cut taxes for companies, including to hire young workers, and subsidized hydrogen and rail.
The New York Times was predicting Macron would be a "failure" four months into his presidency. He went on to abolish a wealth tax few millionaires paid, deregulate small businesses, end automatic pay rises and early retirement at the state railway and liberalize labor law.
Yet somehow every protest and every bad poll still puts Macron's whole project at risk.
Not a show of strength
To be fair, losing his majority in National Assembly and making good on an election promise to raise the retirement age by constitutional decree rather than through a parliamentary vote weren't shows of strengths. Macron's approval rating has fallen to 28 percent, down from 51 percent a year ago and the lowest since the Yellow Vests protests of 2018-19.
But worse weakness was shown by the center-right Republicans, who supported pension reform during the election but split when it became clear most voters opposed it. Macron resorted to a decree, because he couldn't rely on the 61 Republican deputies to join his own 250 in voting the reforms through the Assembly.
In the end, nineteen Republicans sided with the left and far right against Macron's government: not enough to bring it down.
Room for cohabitation
Republicans may convince themselves they are riding a wave of popular discontent against a lame-duck president, but the longer the protests go on, and the more violent they become, the more reasonable Macron will look by comparison.
He is also locked in until 2027, when his term expires. The National Assembly, by contrast, can be dissolved by the president at any time.
That, and perhaps the success of Macron's second term, could hinge on whether Republicans continue to put politics before policy or not.
They have plenty in common. Unlike the left, Republicans support Macron's ambitions for nuclear power. They think his plans for renewable energy — fifty additional offshore wind farms, doubling onshore wind power, increasing solar energy output tenfold by 2050 — go a bit far, but they could use their swing votes in parliament to negotiate a toned-down version. The left is unlikely to be of help, since they don't think Macron's plans go far enough.
Republicans take a harder line on immigration, but again the differences are not insurmountable, especially when the rest of Europe is trending to the right. The European Commission has proposed to pay non-EU countries in North Africa and Southeastern Europe to shelter asylum seekers and limit visas for countries that don't cooperate with the EU to stop irregular migration. Republicans could give Macron cover on his left to speed up deportations of denied asylum seekers and condition residency on learning French.
Both favor cutting bureaucracy, cutting inheritance tax and deregulating businesses.
Macron still has a liberal plurality and a liberal prime minister, Élisabeth Borne, so an alliance wouldn't technically be what the France call cohabitation (divided government). But it would be a coalition and an obvious one. Unless the party of Jacques Chirac and Nicolas Sarkozy is more interested in proving the Anglo-German doomsayers correct?