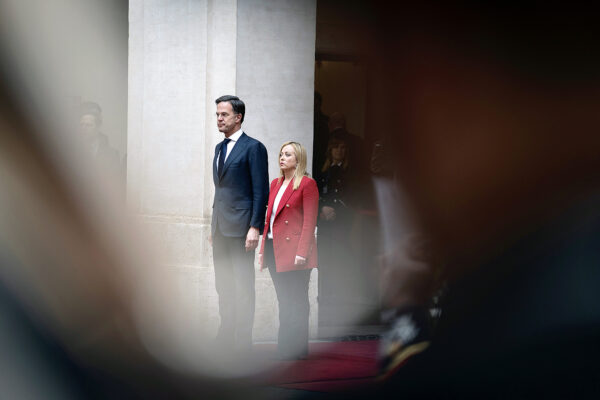 Giorgia Meloni may get her wish.
When the Italian conservative party leader, since elected prime minister, proposed to fund asylum centers in North Africa, she was called a xenophobe by the left in her own country and abroad.
Now it is part of a tentative EU agreement to manage asylum applications, which are approximating the records of 2015 and 2016.
European migration ministers have agreed that transit countries like Tunisia could be paid to shelter asylum seekers. The same countries would need to take back illegal migrants who crossed the Mediterranean Sea by boat.
Such boats regularly capsize, killing an estimated 1,200 migrants last year.
Ministers also discussed trade sanctions for countries that do little to stop irregular migration.
Northern member states want to restore "Dublin"
They remain divided over who should take responsibility for the asylum seekers that do reach Europe.
Central and Northern European member states argue for restoration of the so-called Dublin Regulation, which requires asylum seekers to apply for status in the first EU country they arrive in.
Germany suspended this rule in 2015, when Greek and Italian authorities were overwhelmed by an influx of 1.3 million Syrian refugees and then-Chancellor Angela Merkel agreed to hear their asylum claims. The current German government, which no longer includes Merkel's party, argues EU border states should take asylum seekers back.
"It is the law, they are obliged to readmit," Interior Minister Nancy Faeser of the Social Democrats told reporters before a summit in Brussels last week.
Austria, Belgium, Denmark, France, the Netherlands and Switzerland (which is not an EU member but has open borders with the bloc) agree.
Southern member states ask for help
Mediterranean countries want help before restoring "Dublin": financial aid, to shore up border security, and a proportionate distribution of refugees (asylum seekers whose claims have been recognized) across the 27 member states of the EU.
"We cannot continue to talk about the need to impose more responsibility on frontline member states if there is not an equally prescriptive and mandatory solidarity mechanism toward the countries of first reception," Greek migration minister Notis Mitarachi said after meeting with colleagues from Cyprus, Italy, Malta and Spain.
Sweden's Maria Malmer Stenergard, whose country holds the rotating presidency of the European Council, said ministers would try to reach a common position when they meet again in June.
Asylum claims have doubled in two years
The EU registered 330,000 irregular border crossings last year, a 64-percent increase from 2021.
924,000 asylum applications were made, up 46 percent from 2021 and the highest since 2016. More than half a million asylum applications are pending.
Afghans and Syrians are the largest groups with a combined 261,000 applications, followed by Turks, Venezuelans and Colombians.
26,000 migrants are believed to have died at sea since 2015. Another 632,000 have been rescued by European navies.
One in three asylum seekers apply in Germany, 19 percent in France and 8 percent in Italy. Bulgaria, Greece and Italy receive far more arrivals than asylum requests. Most migrants seek status in Germany, France or the Netherlands. Spain takes a high share of South American asylum seekers.
The figures include few Ukrainians, who can remain in the EU for up to three years without asylum.
Why asylum claims have increased
Asylum applications are up for various reasons:
The end of COVID-19 travel restrictions.
The return of the Taliban in Afghanistan.
Hyperinflation and food insecurity in Venezuela.
Repression of dissidents, especially followers of the Gülen movement, and Kurds by Recep Tayyip Erdoğan in Turkey.
February's earthquake in Syria and Turkey.
Few unrecognized migrants return
About one in three asylum claims are recognized EU-wide. Syrians are almost always accepted as refugees. Two in three Afghans are. Venezuelans are typically denied permanent asylum but allowed to remain in the EU on humanitarian grounds. Algerians, Moroccans and other North and West Africans are almost always denied.
That doesn't mean they leave. The European Court of Auditors estimates that one in five migrants who are denied asylum in the EU return to their home country. The rest remain in the EU illegally.
Existing return agreements fall short
The EU has return agreements with all non-EU countries in Europe as well as Pakistan and Sri Lanka. Afghanistan, Bangladesh, Ethiopia, The Gambia, Guinea and Ivory Coast have non-binding readmission agreements with the EU.
A 2016 deal with Turkey, under which EU member states agreed to admit one Syrian refugee for every illegal migrant Turkey readmitted from Greece, collapsed in 2020.
EU countries have tried to speed up returns bilaterally.
Italy made a deal with Tunisia that allows for the return of 1,700 migrants per year. But more migrants now arrive from Tunisia by boat each month.
Spain signed an €800 million investment deal with Morocco in February. In return, Morocco promised to help stop illegal immigration into Spain's territories in North Africa: Ceuta and Melilla.
The Netherlands is still negotiating with Morocco, which has refused to take nationals back who are denied asylum in Europe. The Netherlands has a large Moroccan community and gets a high share of Moroccan asylum seekers.
Member states have been reluctant to take refugees from others. EU-wide, just 2 percent of refugees were resettled in 2022. Of those, 80 percent were taken by France, Germany and Sweden.
European Commission has ideas
The European Commission has made proposals to reduce asylum migration, speed up deportations and control the bloc's external frontier.
Pay non-EU countries in North Africa and Southeast Europe to shelter asylum seekers.
Migrants could apply for asylum in centers outside the EU. This should discourage migrants from making a long and potentially dangerous journey to Europe by land or sea — especially if they have a weak asylum claim — and give member states control over which and how many asylum seekers they let in.
Dutch parliamentarian Malik Azmani came up with the idea in 2015. It was endorsed by the governments of Denmark and Italy this year.
Create a single European list of safe third countries.
The European Commission estimates that 61 percent of asylum claims filed in the EU last year (564,000 out of 924,000) were not by people in need of international protection.
"For the credibility of the asylum system, it is critical that we distinguish between those that are entitled to international protection according to the law and those who are not," argued Greek minister Mitarachi.
Mutual recognition of asylum procedures.
To stop asylum seekers who have been denied status in one country from applying in another.
European Commission president Ursula von der Leyen explained:
The focus is on having a functioning border that we know if somebody comes there's a procedure that should be the same all over the European Union's external borders.
Limit visas for countries that fail to stop irregular migration into Europe.
French president Emmanuel Macron would even withdraw developmental aid from African countries that refuse to take people back.
Serbia has visa-free travel with the EU. It is accused of allowing a "backdoor" for irregular migration into Europe by not securing its border.
Strengthen Europe's external borders, possibly with drones, fences and speedboats.
The Baltic states, Hungary, Poland and Slovenia have built fences to stop illegal immigration. Altogether about 20 percent of the Schengen border, or 2,000 kilometers, has been fenced off.
The EU will not pay for walls. But it could raise funding for other border security measures, like cameras and vehicles, by €2.7 billion over four years, which would free up national funds for fences.
The Bulgarian border with Turkey has a fence, but no additional security.
Liberals and Social Democrats are divided
Meloni is happy with the proposals, telling reporters after a European Council summit in February:
The approach is changing to one that is very different from what it has been in recent years: immigration is an EU problem and needs an EU response.
She has an ally in Dutch prime minister Mark Rutte, who promised members of his center-right liberal party (of which I am one) to rein in immigration after asylum seekers were forced to sleep in the grass outside the country's only application center this summer.
The liberal Renew group, which includes Macron's and Rutte's parties, largely supports asylum reform along the lines of the European Commission, but there are dissenters. Sophie in 't Veld, the leading centrist on the Committee on Civil Liberties, Justice and Home Affairs, called fences a "fake solution for lazy politicians."
The Social Democrats are divided. Denmark's and Germany's are for stricter measures, Italy's are against.
The Greens and far left in the European Parliament oppose making it harder to apply for asylum.
Will it work?
Veteran Brussels journalist Jan Werts points out that European leaders have promised a European migration policy since 1999 and little has come of it.
"Dublin" was a hard-won compromise that collapsed when the system came under pressure.
After the Syrian refugee crisis, the European Commission proposed a comprehensive Pact on Migration and Asylum that would have improved burden-sharing in the EU. It was vetoed by member states in Central and Eastern Europe.
The same countries do shelter by far most Ukrainian refugees, with Poland alone taking 1.6 out of 5 million.