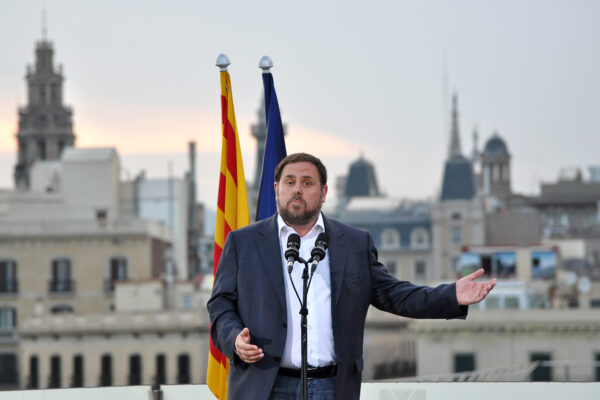 Nine Catalan separatist leaders have been found guilty of sedition and in some cases misuse of public funds by Spain's Supreme Court.
Among the convicted is former Catalan vice president, and leader of one of the two largest independence parties in the region, Oriol Junqueras, who has been sentenced to thirteen years in prison.
The Supreme Court threw out the most serious charge, rebellion, which carries a 25-year prison sentence.
Demonstrations have broken out across Catalonia. Protesters are blocking major streets in Barcelona. Some are attempting to occupy the airport.
A European arrest warrant has been reissued for former Catalan president Carles Puigdemont, who denounced the verdict as an "outrage" from self-imposed exile in Belgium.
The sentences
Junqueras and former ministers Dolors Bassa, Raül Romeva and Jordi Turull have been found guilty of sedition and misuse of public funds for organizing an unsanctioned independence referendum in 2017. Bassa, Romeva and Turull have been sentenced to twelve years in prison.
Former ministers Joaquim Forn and Josep Rull, former parliament speaker Carme Forcadell and pro-independence activists Jordi Cuixart and Jordi Sànchez have been convicted for sedition and given prison sentences of nine to eleven years.
Former ministers Meritxell Borràs, Carles Mundó and Santi Vila have been found guilty of disobedience and fined €60,000 each.
Background
Two million Catalans voted in 2017 to leave Spain, but only 177,000 opponents of independence turned out. Most boycotted the referendum, which had been ruled illegal by the Spanish Constitutional Court. The ruling separatist parties nevertheless interpreted the outcome as a mandate to break away.
After unilaterally declaring Catalonia's independence, and then "suspending" this declaration, Puigdemont and four other ministers fled Spain to avoid arrest. The remaining members of the Catalan government were jailed. Some have been in pre-trial detention for almost two years.
Although support for independence is down from its peak in 2012, polls still show that about one in two Catalans want their own state.
Why the verdict is hard for Catalans to accept
In June, the same Supreme Court sided with the family of Francisco Franco to block the exhumation of the dictator's remains from the monumental Valley of the Fallen in the mountains near Madrid. To many Catalans, especially left-wing separatists in Junqueras' party, who imagine themselves heirs to the Republic that lost the Civil War, the two court decisions confirm that the rest of Spain hasn't reckoned with the past. Read more
Tragedy in Catalonia
This trial should never have happened. The 2017 referendum, which most opponents of independence boycotted, should never have happened. The reason it did is that the conservative Spanish government at the time refused dialogue with an increasingly restless nationalist movement in Catalonia.
The current Spanish government, led by the social democrat Pedro Sánchez, is willing to talk about transferring more money and power to the region. But it has yet to make concrete proposals and for many Catalans, it is too little, too late. Read more