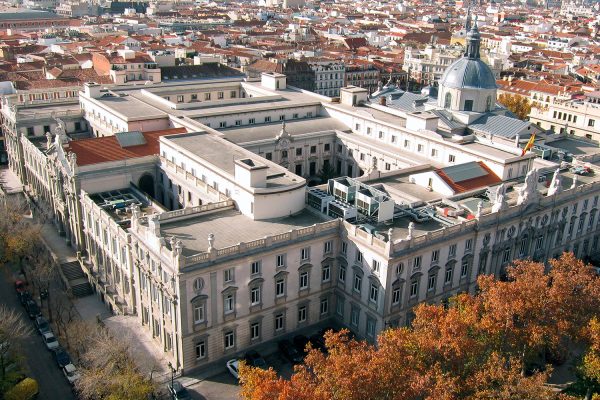 Spain's Supreme Court will soon decide the fate of twelve Catalan independence leaders who stand accused of sedition and rebellion against the state. The verdict will be hard for Catalans to accept as fair, especially when the same court has sided with the family of Francisco Franco.
On Wednesday, the Supreme Court suspended the planned exhumation of the dictator's remains from the monumental Valley of the Fallen in the mountains near Madrid, arguing it would not be in the "public interest".
In its verdict, the court used the honorific "don" to refer to Franco and wrote that he was head of state from October 1, 1936. That is when Franco was proclaimed leader of the coup against the Republic, but his government wasn't recognized as legitimate by most countries until after the Civil War.
To many Catalans, especially left-wing separatists who imagine themselves heirs to the Republic, it confirms that the rest of Spain hasn't reckoned with the past.
Return of the far right
It was the Socialist government of Pedro Sánchez that called for the removal of Franco's remains from the Valley of the Fallen, but the two center-right parties — the Citizens and the People's Party — voted against it. The controversy fueled support for the far-right party Vox, which has since won seats in Congress for the first time.
The independence movement in Catalonia also played a role. Whereas Sánchez is willing to negotiate with the separatist parties that control the regional government, the right argues for the suspension of Catalan home rule. Vox even argues for the abolition of Spain's entire system of devolved governments.
Franco's legacy
Vox also complains that schools pay too much attention to the crimes of the Franco regime, which killed anywhere between 58,000 and 400,000 political opponents and abducted up to 300,000 babies from dissidents and other parents deemed undesirable or unfit.
Many Catalans, whose region suffered the worst of Franco's repression (the Catalan language was even banned), see it the other way around.
Sentences handed down by Francoist military courts were never overturned. Few monuments from the Franco era have been torn down outside Catalonia. Opinion polls find that Spanish attitudes toward the late dictator remain ambivalent. After the Catalan referendum of 2017, which the Spanish government tried to stop, openly fascist demonstrations were held in Madrid.
Closing arguments
The Constitutional Court, which is separate from the Supreme Court, had forbidden the referendum, arguing that under the Constitution no part of Spain can break away. A conviction therefore seems likely.
Prosecutors made their closing arguments this week, in which they accused the defendants, including former Catalan vice president Oriol Junqueras, of attempting a "coup d'état". They could go to prison for up to 25 years.
The defense is due to make its closing arguments next week, after which the seven judges will deliberate.