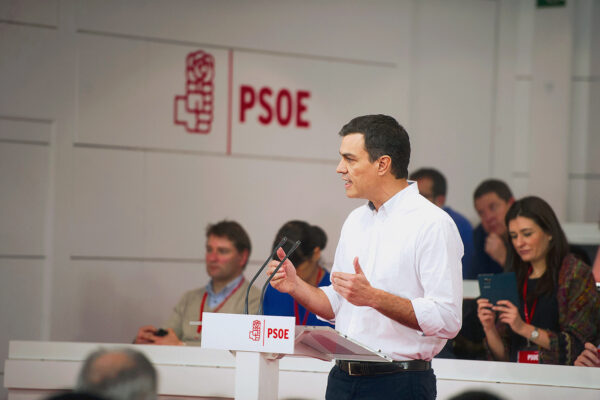 The Spanish right is taking Prime Minister Pedro Sánchez to task for the unrest in his minority left-wing government.
First Sánchez lost his minister for culture and sports, Màxim Huerta, after it emerged he had been fined for tax fraud.
Then his health minister, Carmen Montón, was forced to resign for obtaining a Master's degree seemingly without attending any classes.
Now Sánchez himself is accused of plagiarizing his PhD thesis.
Meanwhile, his government has yet to pass a 2019 budget with the deadline one month away.
"Weak government"
The opposition has pounced.
The People's Party, whose government Sánchez toppled in a parliamentary vote in June, accuse the social democrats of busying themselves with "trial balloons and constant rectifications."
Albert Rivera, the leader of the liberal Citizens, who supported the last government, told reporters, "The [Catalan] nationalists and the populists [in Podemos] wanted a weak government and they got their wish."
Sánchez has retorted, "The problem is that those who ruled 100 days ago haven't realized that they don't rule anymore."
U-turns
Rivera isn't completely wrong. Sánchez doesn't have a majority. Regionalist parties and Podemos supported his bid to become prime minister but did not join his government. Now he needs to look for parliamentary majorities on every issue, which sometimes leads him into embarrassing U-turns.
Politico has made a list:
Sánchez said he wanted to call an early election — and then announced he would stay on until the end of his mandate in 2020.
He promised to impose a tax on banks — and then changed his mind.
He announced a tax on diesel — and just one hour later, the responsible minister questioned the decision.
His cabinet gave the green light to setting up a labor union for prostitutes — and later said it would challenge the legality of its official registration.
Down but not out
Don't bet against Sánchez yet, though.
I did — twice. First when I didn't think he could win back his party's leadership in 2017 and then when I didn't think the Socialists could get back into government with him at the helm. But Sánchez took on the party establishment and won and then maneuvered himself into power.
He is negotiating a deal with Podemos that, if successful, should bring more stability.
The Socialists are still first in the polls with 25-27 percent support. The People's Party has been trending up from under 20 percent in July to around 25 percent in recent surveys. The Citizens have fallen in the same period with their voters splitting between the left and the right. Podemos is stable at 16-18 percent.
Sánchez' next challenge will be persuading Catalonia's moderate nationalists to continue to support him. He has offered the region more autonomy and a referendum on self-government. Hardliners insist on a referendum on independence.