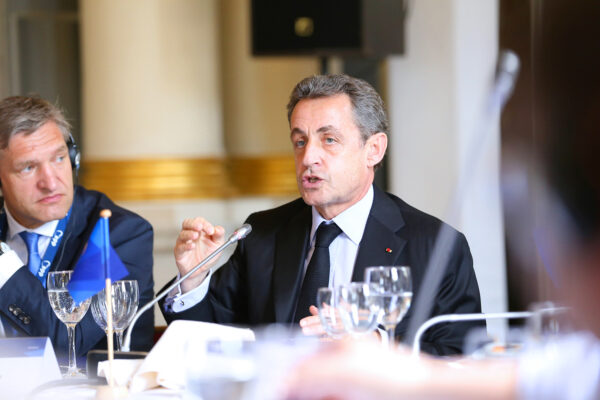 Former French president Nicolas Sarkozy has been gaining ground in recent weeks on his centrist rival, Alain Juppé, for the right's presidential nomination.
One poll in June for the first time put Sarkozy ahead with 54 percent support against 28 percent for Juppé.
That seemed to be an outlier. Other surveys put Sarkozy's first-round support closer to 30 percent against 40 percent for Juppé. But even those numbers are an improvement from March, when Sarkozy's support languished in the low 20s.
The heightened security atmosphere in France, following a spate of Islamic terrorist attacks, has played into Sarkozy's hands.
He has yet to formally announce a candidacy. Two rounds of primaries are due to take place in November. The presidential election is set for April and May.
Hardliner
Sarkozy first rose to prominence as interior minister in 2005, when riots broke out in the largely immigrant-populated housing projects on the outskirts of Paris.
His presidency, from 2007 to 2012, saw few concrete initiatives to accelerate the assimilation of foreign-born nationals into French society. But Sarkozy has taken a harder line since he returned to politics last year, calling for a ban on headscarfs at public universities and a tightening of nationalization requirements.
Such proposals helped his party, Les Républicains, beat the Front national into second place in local elections that year.
The ruling Socialists came in third.
Polls suggest François Hollande, the incumbent president, would fail to qualify for the second-round runoff in a three-way contest with Sarkozy and the Front's Marine Le Pen in 2017.
"Legal niceties"
Sarkozy has stepped up his uncompromising rhetoric since a Tunisian man killed 85 people with a cargo truck in the Mediterranean city of Nice and a Catholic priest was murdered by two Arab teenagers in Normandy in July.
The self-proclaimed Islamic State, a militant group with territory in Iraq and Syria, claimed responsibility for both attacks.
All three perpetrators had been on the French authorities' radar. One of the attackers in Normandy was even on curfew and wearing an electronic tag.
Sarkozy has said "legal niceties" prevented officials from reining them in.
"This new drama shows just how much we need to change the dimension of our response to Islamist terrorism," he told the newspaper Le Monde. "I cannot accept the application of yesterday's thinking to the realities of today."
Mass detention
He proposed a far-ranging scheme to detain some 10,000 people who have been identified by security services as potentially radicalized. Although such an effort would defy the presumption of innocence and hence existing French law, Sarkozy has said, "The priority is ensuring the security of French citizens."
He also warned — ominously — that if democracy fails to protect French citizens, "the citizens will challenge democracy."
Juppé agrees with Sarkozy that police and intelligence agencies need more funding and manpower but rejects this proposal, saying the rule of law "is not a legal nicety."
The left and center agree, but it's the sort of policy that may just appeal to potential Front national voters whom Sarkozy would need to win back the presidency from Hollande.