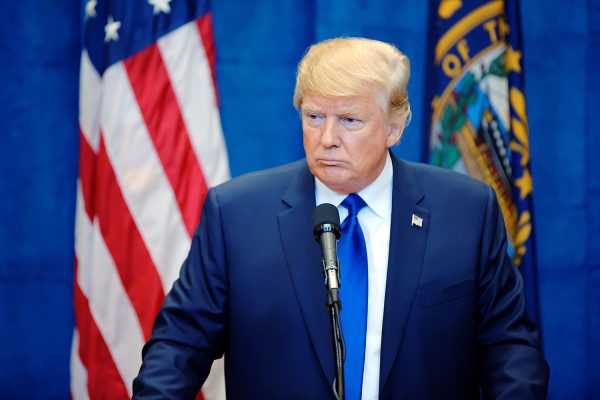 Gideon Rachman remarks in the Financial Times on the similarities between Donald Trump and other strongmen: men like Egypt's Abdul Fatah al-Sisi, Turkey's Recep Tayyip Erdoğan and Russia's Vladimir Putin.
All have promised "to lead a national revival through the force of their personalities and their willingness to ignore liberal niceties," Rachman writes.
In many cases, the promise of decisive leadership is backed up by a willingness — sometimes explicit, sometimes implied — to use illegal violence against enemies of the state.
Sisi has locked up thousands of political opponents in Egypt. Erdoğan rekindled Turkey's internal war with the Kurds to win an election. Russian dissidents are mysteriously poisoned or shot.
Trump's critics don't end up dead. They do get roughened up at his rallies, where Trump speaks wishfully of punching protesters in the face and promises to pay the legal fees of anyone who does.
Sensitive
"Strongman leadership usually goes hand-in-hand with extreme sensitivity to criticism," according to Rachman.
Putin has muzzled the press at home. Erdoğan has sued nearly 2,000 people, many of them journalists, for defamation. Trump threatens lawsuits and has said he wants to "open up" libel laws. He personally responds to every critical article from his Twitter account and mocks and insults reporters and opponents.
Trump's constant need for attention and validation doesn't reveal strength at all, of course. Like all bullies, he is deeply insecure at heart. But the way they make up for that insecurity is why they are so dangerous.
Authoritarian temptation
Rachman knows that strongmen everywhere trade on feelings of insecurity, fear and frustration. Erdoğan and Putin portray their nations as surrounded by enemies. Sisi promises to rescue Egypt from terrorism.
The Trump campaign has incorporated elements of all these themes, promising to reverse national decline and get tough with criminals and foreigners.
The anxiety Trump feeds off is real. But the solutions he peddles are snake oil.
I argued last year that rule by strongmen offers the mirage of stability but is always structurally rotten. What countries like Egypt, Russia and Turkey need is not "strong leadership," but a strong civil society, a competent civil service, accountable politicians, a critical press and an independent judiciary.
What is puzzling is that even in a country that would seem to have all those things, like the United States, there is still a longing for authoritarianism.
A Quinnipiac University survey found that 95 percent of Trump's supporters believe that "America needs a powerful political leader who will save us from the problems we face."
There are real problems and they are institutional. The federal bureaucracy has grown too expansive and is overwhelmed. So is the judiciary, which — as the Atlantic Sentinel has reported — has grown increasingly politicized because politicians refuse to do their jobs. And that is because the Congress has become so partisan that it is no longer representative of the country at large. The same can be said about the media.
But no single person, least of all a know-nothing like Trump, is going to solve those problems.
Find boring leaders
When institutions fail, there are always people willing to listen to the man on horseback who maintains that he alone can escape the normal constraints of politics and uproot the old order through the sheer force of his personality.
It never works. Discontent is smoldering in Egypt. Turkey is at war with itself. Russia's economy is in the tank.
It's the countries with what Rachman calls "cautious, deliberative internationalists" as leaders, like Britain, Canada, Germany and those in Scandinavia, that are prospering.
Their politicians aren't rash. They don't stir people's passions. They are mostly boring, mostly competent men and women who don't have such a strong urge to prove themselves.
Of course they make mistakes. Perhaps they lack the common touch. But they're clearly preferable to the alternative.