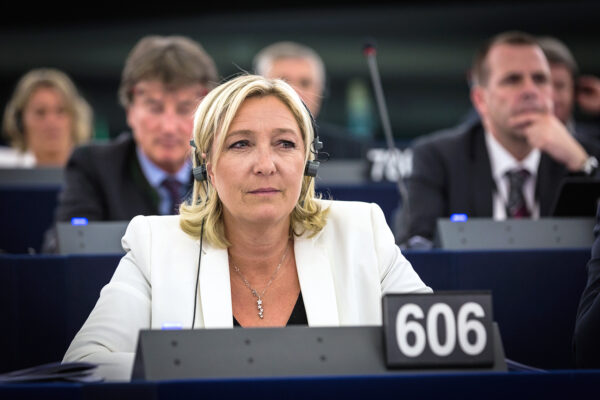 France's mainstream left- and right-wing parties have split in their response to Marine Le Pen's Front national's victory in Sunday's regional elections.
Whereas President François Hollande's Socialists are withdrawing from the contest in those regions where they stand little chance of keeping the nationalists out of power, Nicolas Sarkozy's Les Républicains and their allies are staying in the race.
That could split the anti-Front vote in the runoffs next weekend, but the conservative leader and former president is wary of playing into Le Pen's narrative that there is a conspiracy of mainstream parties intent on blocking her.
She insisted on Monday that the Republicans and Socialists are all the same. In French politics today, she said, "the nationalists [are] on one side and the globalists on the other."
Nationalist triumph
Le Pen's candidates got 28 percent support across thirteen regions on Sunday, a record showing for the party she has lead since 2011.
In six regions, it even placed first.
Polls predict the Front could win next week in Nord-Pas-de-Calais-Picardie, where Le Pen is standing for the regional presidency herself, as well as Alsace-Champagne-Ardenne-Lorraine in the northeast and Provence-Alpes-Côte d'Azur in the south.
It would be the first time the once far-right movement took over any region.
The results vindicate Le Pen's efforts to detoxify the Front and target blue-collar voters across the deindustrialized north as well as the Mediterranean south of France.
Right-wing division
They have also raised doubts about Sarkozy's strategy of adopting some of Le Pen's hardline assimilation policies to prevent right-wing defections.
Alain Juppé, Sarkozy's main rival for the Republicans' presidential nomination, suggested on Monday that their candidates should stand aside in regions where the Socialists have a better chance of keeping the Front out of power. "We cannot let the left alone bear responsibility for this trend," he argued.
Sarkozy is his party's favorite and would almost certainly defeat Le Pen in a 2017 runoff. But the more moderate Juppé would do better if the Socialist Party's candidate — presumed to be Hollande — made it into the second voting round of the presidential election.