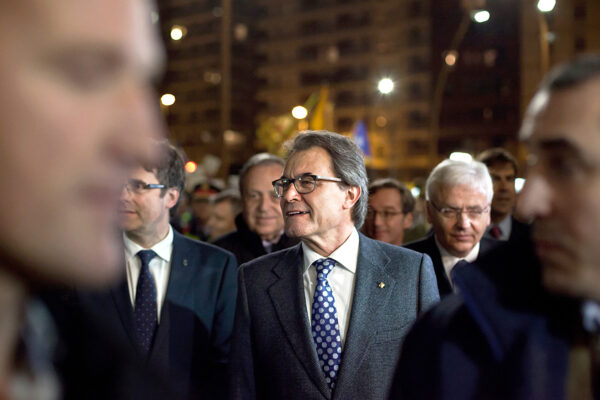 Parties advocating Catalan secession from Spain would get a narrow majority in regional elections later this month, polls show.
Three different surveys published since the beginning of September have given the Together for Yes alliance and the radical Popular Unity Candidacy (CUP) enough seats to declare independence.
The most recent poll from GESOP has the parties at 67 to 69 seats when 68 are needed for a majority. Sigma-2 gives them seventy to 74 seats and GAPS projects as many as eighty.
A fourth poll has the Together for Yes parties winning just sixty seats but it puts CUP at thirteen — which would be a ten-seat increase for the radical fringe party.
Polls conducted in July and August had shown the separatists falling short of a majority.
When regional president Artur Mas called the election in January, he said he would interpret a victory for the separatist parties as a mandate to draft a new constitution and build up state institutions, effectively turning the vote into a referendum on independence.
The central government rejects this interpretation and insists September's elections can serve only to install a new assembly.
In July, Mas' liberal Convergència Democràtica de Catalunya formed an electoral alliance with the left-wing Esquerra Republicana in a bid to rally support for secession.
The pact came at the expense of right-wing unity. The conservative Unió Democràtica de Catalunya (UDC), which had jointly contested every regional election since 1978 with Mas' party, pulled out of the coalition.
UDC is now polling around 3 percent support which could leave it with no seats at all.
The local affiliates of Spain's ruling People's Party and the opposition Socialists are both projected to lose seats in the Catalan parliament as well.
Anti-independence sentiment is instead coalescing around a far-left alliance led by Podemos and the liberal Ciudadanos. Both parties are also vying for gains in Spain's general elections later this year.
Although officials surveys show that less than a third of voters is satisfied with the current arrangement — under which Catalonia, as an autonomous community in Spain, has control over civil administration, consumer protection, family and housing policy, language, transportation and tourism — support for independence has seldom topped 50 percent.
But that is still far higher than it used to be. As recently as 2010, just one in five Catalans said they favored breaking away from Spain. Most favored the status quo or becoming a federal entity instead.
The turning point came when Spain's Constitutional Court threw out most of the region's autonomy statute that year. It also said the definition of Catalonia as a "nation" had no legal standing.
In demonstrations two years later, more than a million Catalans took to the streets of Barcelona to march for independence — the largest demonstration the city had seen in decades. Separatist parties won a majority in snap elections that year. In November, 80 percent voted for statehood in what was dubbed a "citizens' consultation" after the Constitutional Court had struck down a planned referendum. But less than half of eligible voters took part.
Independence would involve many risks.
Although some economists say Catalonia could get a higher credit rating on its own, the region is also one of Spain's most heavily-indebted. Given than a split is unlikely to be cordial, an independent Catalonia would struggle to service its debt, at least in the short term.
Now one of most prosperous parts of Spain, with an economy the size of Denmark's, two of Catalonia's largest industries — trade and tourism — could suffer as well. It would have to reapply for European Union membership but could be barred from rejoining by a vindictive Spain and other member states, like Britain, that worry about encouraging separatist movements of their own. Losing the euro currency and visa-free travel would be a blow to an independent Catalonia's economic prospects.