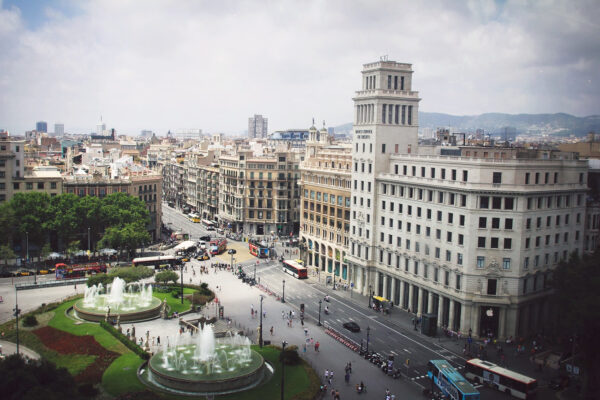 Catalonia would recover its investment-grade credit rating if it seceded from Spain, a study released earlier this week showed.
The region, Spain's richest, would merit an A+ rating — on par with countries such as Israel and South Korea — according to a Col·legi d'Economistes de Catalunya study by economists Joan Elias Boada and Joan Maria Mateu. That is seven steps up from its current rating.
"The credit rating of an independent Catalonia, consolidated as a new European state and a member of the European Union, would be logically even better," the two wrote.
Moody's downgraded Catalonia and four other Spanish regions late last year, citing "limited cash reserves" and imminent debt redemptions. Fitch, another rating agency, kept its assessment unchanged in January, pointing to uncertainty about the region's future status.
Catalonia is due to call regional elections in September. The two biggest parties have said they will interpret the election result as a proxy vote for independence. Regional president Artur Mas, who leads the ruling Convergence and Union alliance, has said that Catalonia would be able to start building up "state-like structures" immediately after the election and plan to secede a year and a half later.
In November, more than 80 percent of Catalans voted for statehood in what was dubbed a "citizens' consultation" after Spain's highest court had struck down a planned referendum as unconstitutional. Roughly half of the region's 5.4 million eligible voters took part.
Spanish prime minister Mariano Rajoy has vowed "never" to negotiate the unity of Spain. His intransigence has contributed to Catalonia's rising separatist sentiment. However, recent surveys show a slim majority would still vote against independence. Support for secession is up from 13 percent in 2005.
Elias Boada's and Mateu's study could help convince Catalans they are better off on their own.
Catalonia is wealthier than the rest of Spain and a net contributor to the country's public finances. It has 16 percent of the Spanish population but produces more than a fifth of national economic output, giving it an economy the size of Denmark's.
The regional government claims between €11 and €15 billion in taxes raised in Catalonia is invested in other regions.
While it is not unusual for richer parts of any country to subsidize its poorer areas, Catalans complain they do so at their own expense. Other parts of Spain end up with more money to spend on public services than they do. Fortune reports, "The redistribution of tax money in Spain doesn't merely bridge the wealth gap between regions; it reorders the divide."
The business magazines cites Guillem López Casasnovas, a professor of economics at Barcelona's Pompeu Fabra University, saying "there has been elevated solidarity." Regions that collect 120 percent of average tax revenue per capita end up with 90 percent of average government resources per capita, he says, while others go from 70 to 110 percent.
According to a recent study co-authored by López, in 2012 Catalonia collected 118.6 percent of the national average of taxes per capita, putting it in third out of fifteen regions. But after redistribution, its resources fell to 99.5 percent, putting it in eleventh place.
Even more galling is that the autonomous Basque Country and Navarre have special deals that let them keep almost all of their tax revenue instead of forwarding it to the central government. According to López, that leaves them with 40 to 60 percent more in resources per capita.
Catalonia's autonomy was actually watered down in 2010 as the result of a Constitutional Court decision. Painfully, the court said the definition of Catalonia as a "nation" had no legal standing.