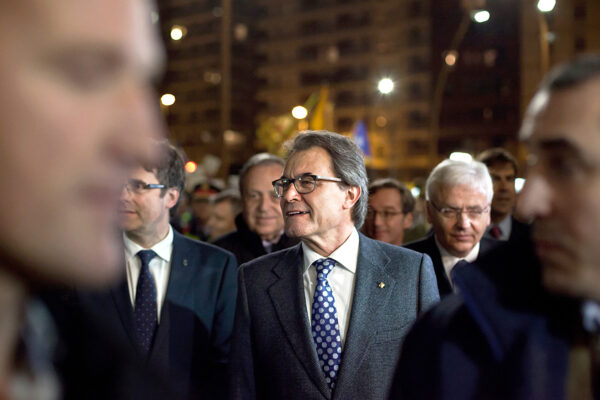 Catalan parties seeking independence from Spain are struggling to retain their majority in the regional legislature, polls show, while centrist and far-left parties are rising.
The Together for Yes alliance led by regional president Artur Mas' liberal Convergència Democràtica de Catalunya and Oriol Junqueras' left-wing Esquerra Republicana will likely get a plurality of the votes in September's election. But only one poll this month showed the separatists winning the 68 seats needed for a majority.
Mas and the Republican Left have promised to draft a new constitution and build up state institutions if they win the election, effectively turning it into a referendum on independence from Spain.
The pro-independence alliance with the left has split Mas' coalition with the conservative Unió Democràtica de Catalunya. The two right-wing parties had jointly contested every regional election since democracy was restored in Spain in 1978.
Also on the right, the local affiliate of Spain's ruling People's Party is expected to win up to ten seats, down from nineteen. The Socialists, who are the second largest party nationally, could win around fifteen, down from twenty. Both oppose Catalan independence. Mariano Rajoy, the People's Party leader and prime minister, has vowed "never" to negotiate the unity of Spain.
But the anti-independence vote seems to be coalescing around two local parties.
One is the Sí que es Pot ("Yes We Can") coalition, led by the populist and far-left Podemos party which is polling in third place for the Spanish general election later this year. It has joined forces with the Catalan Greens and Marxists and is polling at around 17 percent support — which would give it more than twenty seats in the regional assembly.
The liberal Ciudadanos could win even more. While they are in fourth place for the national elections, polls show them taking up to a fifth of the votes in their home region.
The originally Catalan party largely shares Mas' economic policy but, like the Unió Democràtica, differs when it comes to independence. The Ciudadanos would be content with greater autonomy.
After an upsurge in support for secession in recent years, it seems a growing number of Catalans agrees.
According to surveys conducted by the regional government, support for the status quo is falling. Less than a third of voters is happy with the current arrangement which gives Catalonia, as an autonomous community in Spain, control over civil administration, consumer protection, family and housing policy, transportation and tourism. Catalonia also governs its own education system which is bilingual.
The turning point came around 2010 when Spain's Constitutional Court threw out most of the region's autonomy statute. It also said the definition of Catalonia as a "nation" had no legal standing. 40 percent of Catalans supported autonomy before. Now just a quarter does.
Support for becoming a federal state hovered around 30 percent until late 2012 when more than a million Catalans took to the streets of Barcelona to march for independence — the largest demonstration the city had seen in decades. Separatist parties won a majority of the seats in the regional assembly in snap elections that year. According to some polls, support for independence reached 50 percent.
Since then, it has declined and dropped below 40 percent in the official polls.
Although 80 percent voted for statehood in what was dubbed a "citizens' consultation" in November — after the Constitutional Court struck down a referendum — only around two out of an estimated 5.4 million eligible voters took part.
Seceding from Spain would involve many risks.
Although some economists say Catalonia would get a higher credit rating on its own, the region is also one of the most heavily-indebted. Given than a split is unlikely to be negotiated with the central government in good faith, an independent Catalonia could struggle to service its debt, at least in the short term.
Now one of most prosperous parts of Spain, with an economy the size of Denmark's, two of Catalonia's largest industries — trade and tourism — would also likely suffer if the region left Spain and thus the European Union and the euro. An independent Catalonia would reapply for membership but could be stopped from joining by a vindictive Spain and other member states that worry about encouraging separatist movements inside their own borders.