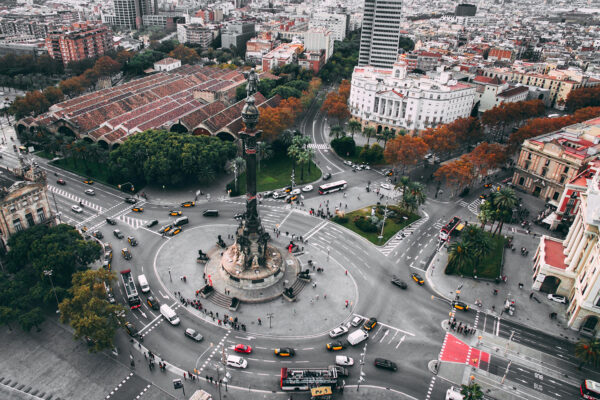 The outcome of Sunday's election in Spain could usher in a new period of confrontation with the independence movement in Catalonia.
If, as the polls predict, the conservative People's Party and far-right Vox (Voice) win a majority, the next government would be far more hostile to Catalan interests than Pedro Sánchez', a coalition of the Socialists and far left.
The last major protests were in 2019, when nine of Catalonia's leading separatists, including the region's former vice president, were convicted of sedition for organizing a referendum on independence. Hundreds of thousands took to the streets of Barcelona and smaller Catalan cities. At night, trashcans were burned and there were altercations with police.
Separatists gave Sánchez a chance
Independence has lost support since. 40 percent of Catalans want to break away, down from 50 percent a decade ago.
Some gave up hope when the referendum, which was boycotted by unionists, failed to bring about a Catalan republic. Session was blocked by the Spanish government. Others have been willing to give Sánchez a chance.
The Socialist Party leader became prime minister in 2018 with the support of Catalonia's leading separatist party, the Republican Left. He pardoned the nine separatists and convened joint Catalan-Spanish cabinet meetings, something his conservative predecessor expressly refused to do.
But the talks have yielded few concrete results. Whatever momentum there was for a negotiated solution, one that would devolve more powers to Catalonia without splitting the region from Spain, was lost during the COVID-19 pandemic. Right-wing parties have no intention of bringing it back.
Many Spaniards are insulted
Sánchez may have done the bare minimum from a Catalan nationalist point of view; for other Spaniards, he has gone too far. Half of Catalans want more self-government. In the rest of Spain, half of voters believe the region has too much autonomy already.
Adding insult to injury, Sánchez is only in power because the Republican Left put him there. His own Socialist Workers' Party does not have a majority. It governs with the support of far-left and regional parties.
Conservatives tap into this wounded pride by claiming Sánchez has sold out Spain to the separatists.
Conservatives would curtail self-government
Sánchez abolished one of the crimes for which the nine separatists were convicted in 2019: sedition. Amnesty International and the Council of Europe had urged Spain for years to strike sedition from the law books, because it can be abused to criminalize dissent. Most other EU countries have. The People's Party and Vox would bring it back.
The People's Party would ban "unauthorized referendums" that are "aimed at undermining Spain." Vox would hold a referendum on outlawing separatist parties instead. It would depose regional governments that undermine the "unity of Spain." Separatists have governed Catalonia since 2012.
The Socialist Party's manifesto doesn't mention Catalonia. It does support protecting co-official languages, like Catalan, and calls for more cooperation within a "diverse Spain" — without specifying what cooperation means.
Sumar (Unite), which includes Sánchez' current coalition partner Podemos (We Can), is the only national party with a plan to give Catalonia more power. It would allow regional languages, like Catalan, to be spoken in the public sector throughout Spain and negotiate a "new agreement" that "recognizes and values Spain's diversity." It specifically mentions tax as an area to look into.
Catalans have long asked for the same fiscal autonomy as the Basques, who collect their own taxes, keep what they needs and send the rest to Madrid. In Catalonia, the national government collects most taxes.
Sumar would put a revised autonomy statute to a vote in Catalonia. But it had only 11 to 14 percent support when a ban on opinion polling went into effect five days before the election.
Catalans have their own terms
Catalonia's Republican Left has conditioned its support for another Socialists-led government on:
Transfer of the regional railway to Catalan authorities.
An end to the "fiscal deficit".
Progress in the "dialogue" between Catalan and Spanish ministers.
The wealthiest region of Spain after Madrid, Catalonia pays more in taxes than it gets back. But even that share isn't fully spent. In 2021, Catalonia received 35 percent of the money the central government had budgeted. Especially in rail, Spanish investment has been slow.
Junts (Together), the Republican Left's more hardline rival, would not support a prime minister who doesn't give Catalans a chance to vote on independence, something both Sánchez and People Party's leader Alberto Núñez Feijóo have ruled out.
The far-left Popular Unity Candidacy (CUP), the third and smallest independence party, conditions its support for a national government on recognition of Catalan "self-determination".