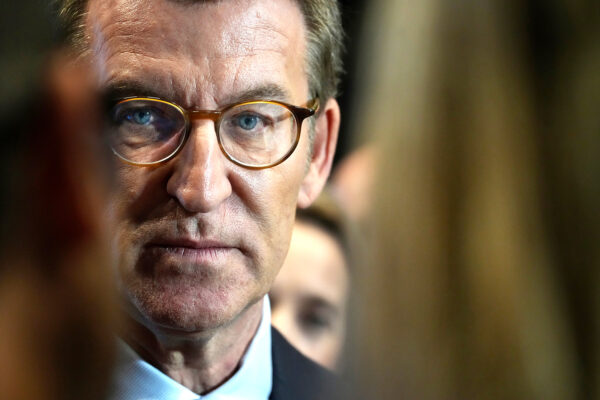 Alberto Núñez Feijóo's chances of becoming Spain's prime minister appear slim.
His conservative People's Party won the election on Sunday with 136 of the 350 seats in Congress. But a coalition with the far-right Vox (Voice) and center-right Navarrese People's Union would be stuck at 170 seats, six short of a majority.
The Canarian Coalition, which governs the Spanish islands in the Atlantic with Feijóo's PP, and the moderate Basque Nationalist Party (PNV) have six seats between them. But both refuse to support a prime minister who also needs Vox.
Prime Minister Pedro Sánchez' chances are only slightly better. He would need the support of almost all remaining parties, including Basque and Catalan separatists, to stay in power.
If neither man can muster a majority, Spain would have to hold a repeat election, probably in December or the new year.
"Patriots" and separatists don't go together
The PNV and Vox cancel each other out. The far-right party, which would outlaw separatism and abolish the autonomies of the Basque Country and Catalonia, insists it will not support a prime minister who is also backed by the PNV.
"You can't have a patriotic vote alongside that of a separatist party," said Vox secretary Ignacio Garriga on Monday.
The PNV govern the Basque Country with parliamentary support from Sánchez' Socialist Party. Their long-term goal is independence, but they have no immediate plans to achieve it. Their rival, the more hardline, and left-wing, Basque Country Gather (EH Bildu), for the first time won more seats in Congress than the PNV on Sunday. Voting together with Vox to make Feijóo prime minister has only downsides for the PNV. The Basque Socialists might withdraw their support from their regional government and Bildu could win even more seats in the next general election.
The Canarian Coalition sees no upsides either. Feijóo does "not have any possibility to become prime minister," according to the group's outgoing member of Congress, Ana Oramas.
Sánchez needs everyone else
A grand coalition of the PP and Socialists — never tried before — is also off the table, according to Sánchez' deputy prime minister, María Jesús Montero.
That leaves a left-wing coalition of the Socialists, far-left Sumar (Unite), Bildu and the PNV, Catalonia's Republican Left and the one-seat Galician Nationalist Bloc (BNG).
Four years ago, the parties that are now Sumar, the PNV and BNG backed Sánchez. Bildu and the Republican Left abstained. Junts (Together), the more hardline Catalan separatist party, voted against Sánchez, as did the Canarian Coalition.
To win this time, Sánchez would need Bildu and the Republicans to vote for him and Junts, which has seven seats, to abstain. (If Sánchez can't get a majority of 176 on the first ballot, he would need only more votes in his favor than against on a second attempt.)
On election night, Junts's parliamentary group leader, Míriam Nogueras, cautioned they would "not make Pedro Sánchez prime minister in exchange for nothing."
Catalan demands
Junts has two demands:
A referendum on Catalan independence recognized by Spain.
An amnesty for the organizers of the 2017 referendum, which was unsanctioned.
Both are acceptable to Sumar, but not the Socialists. They share the Constitutional Court's opinion that independence referendums are illegal.
Sánchez pardoned the nine organizers of the 2017 referendum, including seven Catalan ministers, who were imprisoned in Spain. Those who fled, including former regional president Carles Puigdemont, remain wanted by Spanish police.
Not coincidentally, the day after the general election Spain's public prosector asked the Supreme Court to reissue an arrest warrant for Puigdemont, who lives in Belgium and represents Catalonia in the European Parliament. The Prosecutor's Office and courts have taken a hard line against Catalan separatism.