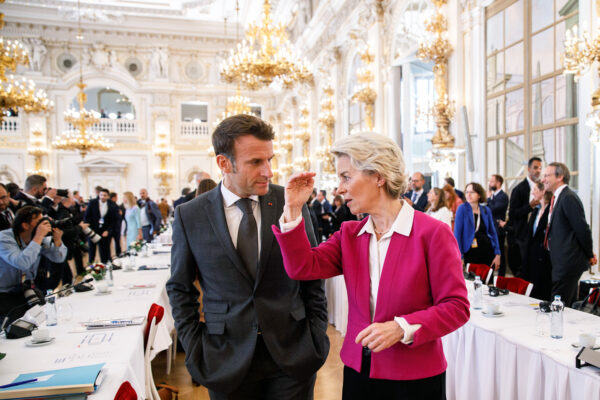 77 percent of all state aid approved in the EU last year went to French and German companies, according to figures from the European Commission.
The two countries, which have 40 percent of the European economy between them, benefited from a suspension of antitrust rules first put in place during COVID-19.
France would make the suspension permanent. Two years ago, the European Commission rejected such a French proposal. Now it is more sympathetic.
I have a story in the Netherlands' Wynia's Week about what France wants, why the European Commission changed its mind, and how France and Germany were able to take advantage of exemptions to the rules of the single market. Here is a summary for English readers.
Macron's plans failed two years ago
Macron's "Made in Europe" strategy has three components:
Relaxing competition rules to allow state aid.
Giving preference to European companies in public procurement.
An EU fund to subsidize innovations in the green economy.
This is a step up from the plan Macron introduced with German chancellor Angela Merkel in 2021. The two were disappointed at the time that European commissioner Margrethe Vestager had blocked a merger of the French and German train manufacturers Alstom and Siemens, and proposed to:
Relax competition rules to allow state aid and bigger mergers.
Condition trade deals on reciprocity in public procurement.
Subsidize innovation.
Block unwanted foreign investments.
Vestager found an ally in Dutch prime minister Mark Rutte to block the Macron-Merkel proposal. The fellow liberal united Baltic and Scandinavian countries, Ireland, Poland and Spain behind a counterproposal to liberalize the rules of the single market instead.
Whereas Macron and Merkel worried French and German companies would be crowded out by state-backed American and Chinese enterprises, Rutte, Spanish prime minister Pedro Sánchez and others worried their firms could be crowded out by Franco-German monopolies.
The European Commission adopted neither plan and the rules weren't changed.
COVID changed minds in Brussels
Until COVID. When the pandemic struck, the commission lifted restrictions on state aid in order to avoid bankruptcies and mass unemployment. It approved €380 billion in national support for companies.
Those restrictions remain lifted. After COVID, Russia's invasion of Ukraine, European sanctions against Russia and high energy prices justified further exemptions.
Most recently, American tax benefits for American-made electric cars, computer chips and wind turbines have become the go-to argument for relaxing competition rules.
French and German companies benefited most
Since COVID, the European Commission has approved another €670 billion in state aid. A spokesperson told me 53 percent of the money went to German, and 24 percent to French, companies.
Germany's Uniper, which faced bankruptcy when it was cut off from Russian gas, received the largest bailout: €35 billion.
Italy, the EU's third economy, accounted for 8 percent of the money. Dutch and Spanish companies each received under 2 percent of the total.
Some 180 requests for state aid were approved.
Von der Leyen squares a circle
The French want another €365 billion in EU funding for companies in the green economy to match the American Inflation Reduction Act, which spends $391 billion over ten years on climate- and energy-related tax credits.
European Commission president Ursula von der Leyen agrees, telling students at the College of Europe in Bruges last month,
We are very careful to avoid distortions in our single market. But we must also be responsive to the increasing global competition on clean tech.
To square that circle, Von der Leyen would funnel state aid through an EU "sovereignty fund". That avoids the "race to the bottom on state aid" Rutte is afraid of: when large and wealthy countries, like France and Germany, subsidize their industries, it puts pressure on smaller countries, like the Netherlands and Spain, to do the same. If Von der Leyen's commission, rather than the member states, controlled the money, it could make investments that are in the interest of the EU as a whole.
Sánchez is sold. Rutte remains skeptical. Like German chancellor Olaf Scholz, he would prefer to tap existing funds. The EU already has subsidies for green hydrogen. There is still money in the COVID-19 recovery program.
Not again
Both leaders also worry about the financing of a new fund. Rutte agreed to joint European debts (eurobonds) to finance the COVID-19 recovery on the condition that it would be a one-off. Just like the rules against state aid were supposed to be lifted temporarily.
Borrowing money on Dutch and German credit to subsidize French and Spanish companies, no matter how green, would test the patience of Dutch and German voters.
Nevertheless, Rutte's left-liberal coalition partner D66 has not ruled it out and Scholz' own party in the Bundestag, the Social Democrats, have endorsed Von der Leyen's proposal.