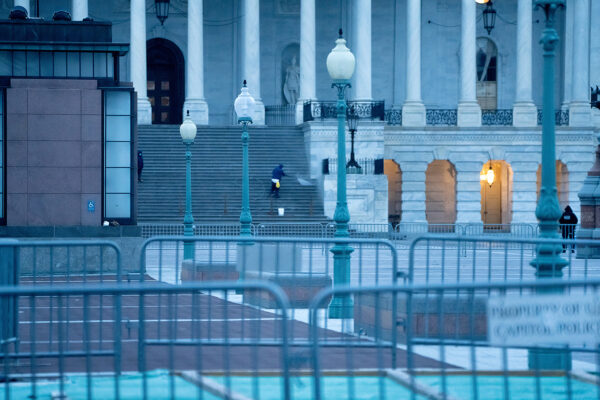 Liz Cheney, the number-three Republican in the House of Representatives, will vote to impeach Donald Trump for inciting an attack on the United States Capitol and attempting to overturn the election of Joe Biden.
So will Representatives Jaime Herrera Beutler and Dan Newhouse of Washington; Anthony Gonzalez of Ohio; John Katko of New York, a former federal prosecutor; Adam Kinzinger of Illinois, an Air Force veteran; and Peter Meijer and Fred Upton of Michigan.
Charlie Baker, Larry Hogan and Phil Scott, the Republican governors of Massachusetts, Maryland and Vermont, support impeachment.
So does Mitch McConnell, the Republican leader in the Senate.
That doesn't mean he will vote to convict Trump in a Senate trial, or hold a trial before Biden is inaugurated on January 20. But if he did, enough Republicans might join him (seventeen would be needed for a two-thirds majority, assuming all fifty Democrats vote to convict) to remove Trump and bar him from holding public office again.
Elaine Chao, McConnell's wife, has resigned as Trump's transportation secretary.
Betsy DeVos, the education secretary, and Chad Wolf, the acting homeland security secretary, have also stepped down.
Senators Lisa Murkowski of Alaska and Pat Toomey of Pennsylvania have called for the president's resignation.
Mike Pence was urged by Trump to overturn the election when he presided over the certification of Biden's Electoral College victory last Wednesday; a power the vice president does not have. "You can either go down in history as a patriot, or you can go down in history as a pussy," Trump told him. Pence — for once — refused Trump.
Bill Barr, the former attorney general, and John Kelly, Trump's second White House chief of staff, have called the president's attempt to cling to power "inexcusable" and "a betrayal".
Half of Republican voters disapprove of the attack on the Capitol.
Mickey Edwards, a former congressman, and Colin Powell, a former chairman of the Joint Chiefs of Staff and George W. Bush's first secretary of state, have left the Republican Party.
The Joint Chiefs of Staff felt it necessary to issue a letter to all servicemen and -women in which they emphasized: "Any act to disrupt the constitutional process is not only against our traditions, values and oath; it is against the law."
The Department of Justice is assembling a sedition case against those involved in storming the Capitol. Sedition carries a prison sentence of twenty years.
Facebook and Twitter have banned Trump. All major social media platforms have removed far-right accounts in recent days.
Amazon, American Express, Airbnb, AT&T, Blue Cross, Citi Bank, Comcast, Deloitte, Dow Chemical, Marriott, Northrop Grumman, Raytheon, Verizon, Walmart and Walt Disney, among other companies, have paused political contributions to lawmakers who voted against Biden's election victory.
Brit Hume, Andrew McCarthy, Geraldo Rivera are other conservative commentators who long defended the president have turned against him.