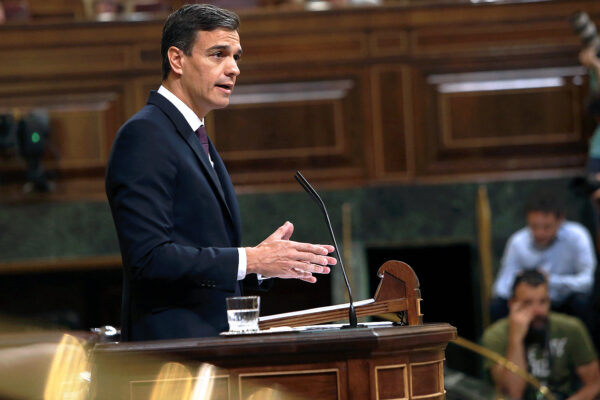 Socialist Party leader Pedro Sánchez has won a second term as prime minister of Spain.
He fell short of a absolute majority in Congress on Sunday but needed only more votes in favor than against a the second ballot on Tuesday.
Left-wing separatists from the Basque Country and Catalonia abstained, allowing Sánchez to scrape by with a majority of two — the smallest ever for a Spanish prime minister.
Sánchez' will be the first coalition government since the Civil War and the most left-wing government since the fall of the Republic.
How the parties voted
Sánchez received the support of his own Socialists (120), the far-left Podemos (35), the center-right Basque Nationalist Party (6), the left-wing Más País (2), Valencia's Més Compromís (1), the center-left Galician Nationalist Bloc (1), the center-left New Canaries (1) and the new Teruel Exists party (1) = 167
Against him were the conservative People's Party (88), far-right Vox (52), liberal-nationalist Citizens (10), center-right Together for Catalonia (8), Navarrese People's Union (2), far-left Popular Unity Candidacy (2), Asturias Forum (1), Canarian Coalition (1) and the Regionalist Party of Cantabria (1) = 165