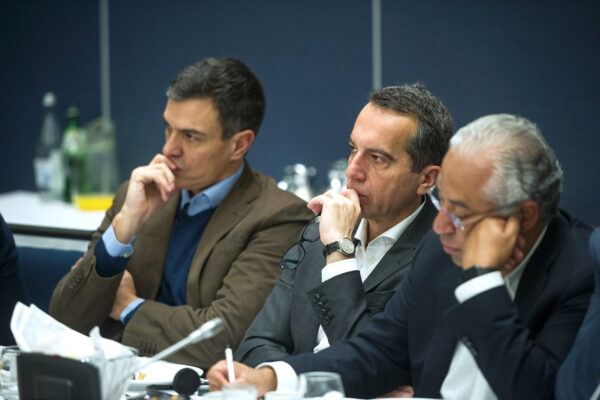 21 seats short of a majority in Congress, Spain's Pedro Sánchez still need either the support or acquiescence of smaller parties to serve a second term as prime minister.
So far, the signs are not encouraging.
Searching for a majority
Sánchez, whose center-left Socialist Party placed first in the election on Sunday, winning 120 out of 350 seats, has done a deal with the far-left Podemos, which gives him an addition 35 seats.
Small left-wing parties from the Basque Country, Cantabria and Galicia don't have enough seats to get him over the line.
Sánchez needs the support of either the liberal-nationalist Citizens or the Catalan independence parties.
The Citizens, who went down from 57 to ten seats in the election, are in no mood to help. They have accused Sánchez of heading a "gang" and making secret deals with "totalitarians", which is what they call the Catalan pro-independence parties.
Catalan parties
Two of those three parties are against Sánchez as well.
The center-right Together for Catalonia, the party of former Catalan president Carles Puigdemont, has eight seats. It has accused Podemos of "sacrificing Catalonia" by going into coalition with the Socialists, so they will probably vote "no".
The far-left Popular Unity Candidacy has won two seats on a promise to "block" Spanish politics, so that's another "no".
That leaves the Republican Left, with thirteen seats. Their leader, Oriol Junqueras, has been sentenced to thirteen years in prison for spearheading a failed independence push in 2017, so they would need significant concessions to justify not voting against Sánchez.
Concessions
At a minimum, Sánchez would need to reopen dialogue with the separatist-controlled government of Catalonia. He promised talks in return for Catalan support in 2018, when he first came to power, but took a harder line in the election campaign, arguing for a ban on independence referendums and taking control of the Catalan public media out of the hands of Catalan officials.
Next would be a legal referendum on independence. Spain's major parties and Constitutional Court argue this is impossible under the current Constitution. But Spain has changed its Constitution before, most notably in 1978, after the end of the Franco dictatorship, and again in 1995 and 2011.
The Socialists aren't dead set against reform. Meritxell Batet, the Catalan-born speaker of Congress, argued in 2018, when she was minister for regional administration, that the 1978 regime had run its course and reform was "urgent, viable and desirable."
But the Socialists can't do it on their own. Changing the Constitution requires two-thirds majorities in both chambers of Congress. Vox, a far-right party with 52 deputies in the lower house, is not going to vote for it. It wants to abolish Catalan autonomy, not expand it.
That leaves the People's Party, which voted against the formalization of Catalan self-rule in 2005 and now calls for its indefinite suspension.
Third on the Republican Left's list would be an amnesty for Junqueras and the other eight separatist leaders who were convicted of sedition against the Spanish state a month ago. Podemos could accept this. Sánchez has so far ruled out a pardon.
Investiture
Even if the Republican Left can be persuaded, it is unlikely to become part of the Spanish government. More likely, it would abstain from Sánchez' investiture.
Assuming Sánchez falls short of an absolute majority on his first try, he would only need a simple majority the second time (more votes in favor than against).
That is how his predecessor, the right-wing Mariano Rajoy, won his second term as prime minister in 2016. At the time, it were the Socialists who abstained from the investiture.