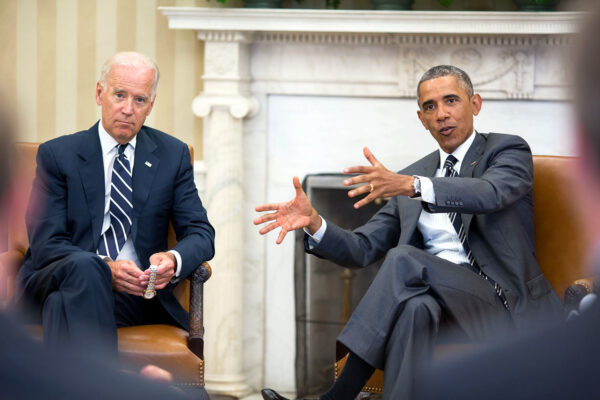 Deval Patrick, the center-left former governor of Massachusetts, and a friend of former president Barack Obama, has entered the Democratic presidential primary.
Obama himself has warned candidates to "pay some attention to where voters actually are."


The average American doesn't think we have to completely tear down the system and remake it. They just don't want to see crazy stuff.

Former New York mayor Michael Bloomberg, a centrist, has filed paperwork in Alabama, which has an early cut-off date, just in case he decides to run.
Even Hillary Clinton, who lost to Donald Trump in 2016, is not ruling out another bid, telling the BBC, "I'm under enormous pressure from many, many, many people to think about it."
Democratic Party officials have been slow to endorse candidates this year.
Dissatisfaction
Democratic Party elites are clearly dissatisfied with the candidates.
Joe Biden, the former vice president and still the frontrunner with 25 to 30 percent support nationally, has underwhelmed in the televised debates.
California senator Kamala Harris, an insiders' favorite, has failed to win popular support, polling at 5 percent.
Center-left Democrats worry Massachusetts senator Elizabeth Warren has made herself unelectable by embracing Vermont senator Bernie Sanders' proposal to nationalize health insurance, which could raise federal spending by as much as 50 percent. Sanders has been stable at 15-20 percent support in the polls. Warren's popularity has fallen from 25-27 percent a month ago to barely 20 percent.
South Bend, Indiana mayor Pete Buttigieg's view are more in line with the country's, but, at 37, he has little political experience and yet to poll above 10 percent nationally.
Other moderate candidates — Michael Bennet of Colorado, Steve Bullock of Montana, Cory Booker of New Jersey, Amy Klobuchar of Minnesota — have failed to capture the electorate's imagination.
Risks
The risk of Patrick's, and possibly Bloomberg's, late entry is that it will further split the moderate vote.
More Democrats call themselves conservative or moderate than liberal, but the last group has just two candidates: Sanders and Warren.
In a crowded field, one of them could prevail with a plurality, just like Trump won the Republican nomination in 2016 with the support of 45 percent of primary voters.
But the risk of a Sanders or a Warren candidacy seems to worry the centrist wing of the party more.
Safer strategy
Centrists are skeptical a Democrat can beat Trump in 2020 by raising turnout among marginalized groups or convincing Obama-to-Trump voters to return to the Democratic Party.
The safer strategy is appealing to Romney-to-Clinton voters. They actually vote and, unlike former Democrats supporting Trump in the industrial Midwest, they have already turned on the president.
When Democrats ran pragmatic, center-left candidates in swing districts in 2014, they won.
They did again in off-year elections this month. Democrats ousted the unpopular governor of conservative Kentucky, Matt Bevin, and took control, for the first time since 1993, of both chambers of Virginia's General Assembly, once considered a swing state.
Balance
One strategy doesn't rule out the other. Obama appealed to both working voters in the Midwest and middle-income voters in states like North Carolina and Virginia.
But it's not easy, and party elders like Obama see that today's candidates are not finding the right balance.
If you're trying to convince blue-collar voters who preferred Trump over Clinton in 2016 to return to the Democratic Party, decriminalizing unsanctioned entry across the border, providing free education and health care to undocumented immigrants, making reparations for slavery and accepting the most woke interpretation of gender politics is not the way to do it.
If you want to avoid well-off suburban voters who only became Democrats in 2016 from returning to the Republican Party, running on abolishing private health insurance, raising federal spending by 50 percent to pay for it, and introducing a federal job guarantee or a universal basic income is just about the worst thing you could do.
Don't take it from me. Take it from the last Democrat who won the presidency — twice.