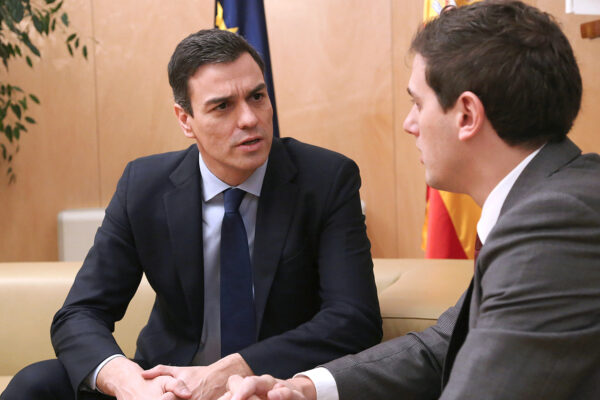 A possible last-minute deal between Spain's ruling Socialist Party and the liberal Citizens collapsed on Tuesday, forcing caretaker prime minister Pedro Sánchez to either attempt a stitch-up with the far left or call elections in November, which would Spain's fourth in as many years.
The Citizens, who had for months ruled out voting in Sánchez' favor over his willingness to negotiate with the ruling parties in Catalonia, offered to abstain from an investiture vote if the Socialist ruled out taxes increases on the middle class and pardons for Catalan leaders who are on trial for organizing an unauthorized independence vote two years ago.
Sánchez claims he agreed to the terms; the Citizens insist he did not.
Polls suggest the Citizens could lost a quarter of their support in an early election. Their indecisiveness is causing them to lose voters to both the Socialists on the left and the People's Party on the right.
But the Socialists are unlikely to gain enough support for a majority, meaning in two months Spain could be back where it is now.
No deal
After winning the election in April with almost 29 percent support, Sánchez hoped to renew his pact with the far-left Podemos. It had supported his previous government without becoming part of it.
For Podemos leader Pablo Iglesias, this was no longer enough. He had seen his share of the vote fall from 21 to 14 percent. Why should left-wing voters support Podemos again if all it ever gave them was minority Socialists governments?
Iglesias insisted on a coalition agreement and cabinet seats. Sánchez refused, fearing a formal deal with the far left would alienate centrists.
What's next?
Podemos has vowed to abstain from Sánchez' investiture, but that will not be enough to cancel out "no" votes from the right.
King Felipe VI could ask another party leader to try to form a government, but the combined right doesn't have a majority either and Sánchez seems set on another election.
He is betting that an improved result for the Socialists will convince Podemos, or perhaps one of the center-right parties, to allow him to remain in power. That's a gamble.