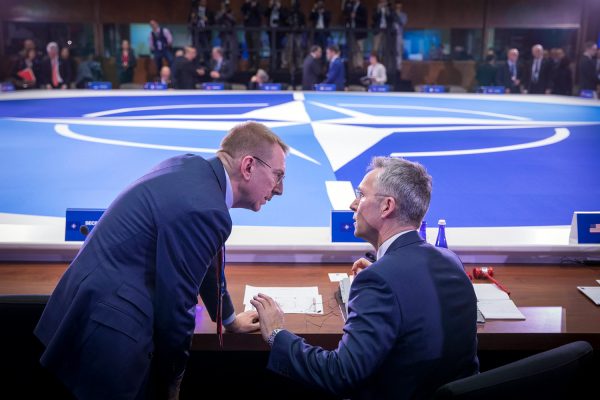 Last month, NATO allies issued a warning to Russia, urging it to destroy a new missile system that could threaten Europe or face a "defensive" response.
The warning is a final opportunity for Russia to respect the 1987 Intermediate-Range Nuclear Forces (INF) Treaty, which banned land-based cruise and ballistic missiles with a range of 500 to 5,500 kilometers. If it doesn't — and Russia claims the system in question has a range of only 480 kilometers — it will be another wake-up call for Europe.
Back to the Cold War
The INF treaty eliminated an entire class of nuclear-capable missiles. It marked the restoration of diplomatic relations between the then-superpowers.
Thirty years later, it seems Russia and the West are back to square one.
President Donald Trump announced last year that the United States would withdraw from the treaty if Russia remained in noncompliance (which had also been flagged by his predecessor, Barack Obama). Russia was given six months to fall back into order by destroying all of its violating missiles and launchers.
It didn't. Instead, the Russians put the blame on NATO, arguing that its European missile shield has many of the characteristics the INF treaty prohibits. To Europeans, it feels like an unwanted encore of the Cold War.
Reality
Wanted or not, Europeans have to come to terms with reality. Only seven of the 29 countries in NATO meet the alliance's defense spending target (2 percent of GDP). Those seven countries do not include the likes of France and Germany. If NATO is to be an effective bulwark, it must work as a bloc.
It is clear America is cooling on NATO. Barack Obama scaled back the European missile shield in an attempt to assuage Russian concerns, which disappointed the Czech Republic and Poland but did not stop Russia from developing its new missile system. Trump has raised doubts about America's security commitment to Europe altogether.
The Europeans must take matters into their own hands. Germany is of central importance. Its geography and economic might make it a pivotal power. Although the Bundeswehr's readiness levels have improved in recent years, it will still take time and effort for the country to become a hub in Europe's territorial defense.
Besides spending more on defense, European countries must forge a closer technological union. They can create more weapons systems that are mutually accessible, like the Eurofighter. Spain recently joined a Franco-German project to build its successor. A literal increase in sophisticated weaponry should also be on the European list of priorities.
Timing
Whatever Russia's ambitions, NATO needs to project strength and ground this image in reality. European allies have raised defense budgets, but not enough. Weapons systems like the Eurofighter exist, but Britain, France and the United States are still protective of their national defense industries.
Until the larger European nations increase their contributions, the frontline states of Estonia, Latvia, Lithuania and Poland will remain anxious. They remember the days of Soviet rule. History may not repeat itself, but it could very well produce a distasteful rhyme.