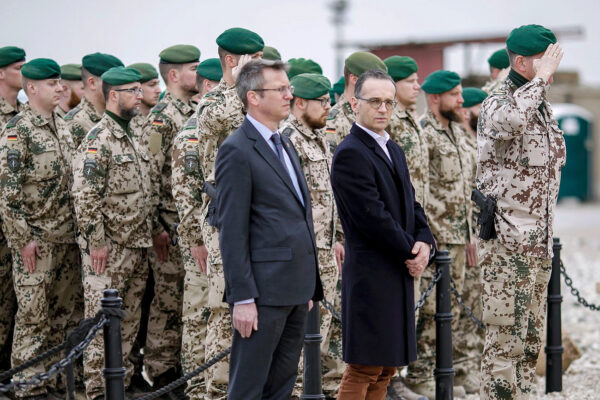 A week after a Taliban attack in Kabul left six people dead and over a hundred wonded, an all-Afghan peace summit is due to start in Doha on Sunday. Germany is co-sponsoring the meeting with Qatar.
Markus Potzel, Germany's special representative to Afghanistan and Pakistan, made the announcement and said, "only Afghans themselves can decide the future of their country."
Potzel has become a familiar face in Afghanistan. Just a few weeks ago, he held meetings with key stakeholders across the Afghan political spectrum. In May, he had at least two meetings with the Taliban.
Germany wants to play an active role in the peace process and ensure that it is inclusive. The Afghan government's exclusion from bilateral talks between the Taliban and the United States is a concern in Berlin. The Germans believe only an all-Afghan process can pave the way to a sustainable settlement. The hope is that the Doha meeting will be a step in that direction.
Domestic pressures
Germany's position reflects both the humanitarian impulse pervasive in its foreign policy and a wish to draw the curtains on the country's longest overseas military engagement.
Germany remains uncomfortable with the use of force and the Afghanistan deployment has been controversial from the start. It is becoming harder for lawmakers to justify the strategic significance of German troops being present in Afghanistan the longer the campaign goes on.
The German government weighs these domestic pressures against the need to show solidarity with its allies. Officials believe (PDF) that a unilateral withdrawal from Afghanistan would undermine Germany's credibility as a partner. A peace deal would allow it to bring its troops home without upsetting the transatlantic relationship.
Sense of responsibility
But Germany also wants to ensure that such an agreement is not rushed. It feels a responsibility to ensure that a final agreemeent preserves the gains made in the last seventeen years. That should include, at a minimum, adherence to the Afghan Constitution and a respect for women's and minority rights.
German diplomats insist that their reconstruction efforts since 2001 have allowed them to build trust and goodwill among different Afghan factions. They fear that such perceptions would be damaged by a hasty withdrawal.
Another fear is that a failure to protect Germany's gains would cast a shadow over future military campaigns. The experience in Afghanistan has hardly made Germans keen to undertake another stabilization effort overseas, but they are willing to evaluate the possibility of participating in such missions on a case-by-case basis. If all Germany has accomplished in Afghanistan is lost the moment it leaves, though, that would make it hard for policymakers to sell the public on future engagements.
Not the end
A peace deal would not be the end of Germany's involvement. It believes Afghanistan would continue to need aid, and it is willing to provide it. There is support for development assistance across the political spectrum in Germany. But that support is contingent on, again, protecting the gains of the last seventeen years. Expecting the German public and parliament to provide assistance to a country that violates and undermines these gains would be a "no go".
Stressing this point upon the Taliban, urging it to moderate its stance on certain issues in order to ensure international assistance, has been one of the talking points in German-Taliban meetings.
For all its good intentions and perceived leverage, Germany also knows its influence is limited and the road to securing a respectable exit from Afghanistan is a long one. Germany "would need to have a lot of stamina," in the words of its defense minister — and now candidate for the European Commission presidency — Ursula von der Leyen, as Afghanistan will occupy it "for a very long time."