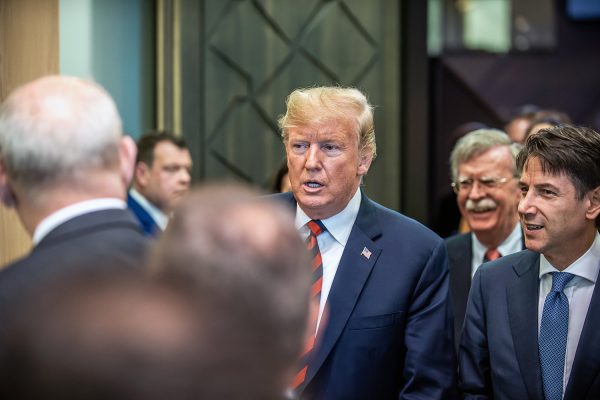 Donald Trump has not exactly shied away from advocating for better American relations with Russia. During his presidential campaign, he argued that "Russia and the United States should be able to work well with each other toward defeating terrorism and restoring world peace." He has repeatedly praised Vladimir Putin and accepted his denials of Russian interference in the 2016 election.
But even Trump's Russophilia is no match for geopolitical reality.
Troops to Poland
At a meeting in Washington this week, Trump promised his Polish counterpart, Andrzej Duda, he would deploy an additional 1,000 soldiers to Poland. 5,000 already regularly rotate in and out. The Poles have offered to host a permanent American military base in their country, possibly named after Trump.
For Duda, this would be a cheap price to pay. He has his eyes set on reinforcing Poland's borders with the Russian enclave of Kaliningrad and Russia's ally Belarus.
Russia's 2014 annexation of the Crimean Peninsula from Ukraine heightened Polish fears about its eastern neighbor and shook the rest of the NATO alliance into action. Member states recommitted to spending 2 percent of their GDPs on defense. Batallion-sized military contingents were sent to each of the Baltic states as well as Poland.
It's not enough. The forces are small and there is doubt NATO would really go to war if Russia carried out a limited act of aggression against one of its European neighbors — doubt fueled by Trump himself, who has called America's security commitment to the continent into question.
That makes his decision to send another 1,000 troops to Poland all the more significant.
Inevitable
At the same time, it should not come as a total surprise. Relations between Russia and the United States have continued to deteriorate. For all of Trump's warm words, there has been no progress on issues such as Syria and Ukraine. His foreign policy, at least when it comes to Europe, appears to be undergoing a change.
Much like his three immediate predecessors, Trump came into office hoping to transform America's former Cold War rival into a friend. Like them, he has succumbed to the pressures of American foreign policy.