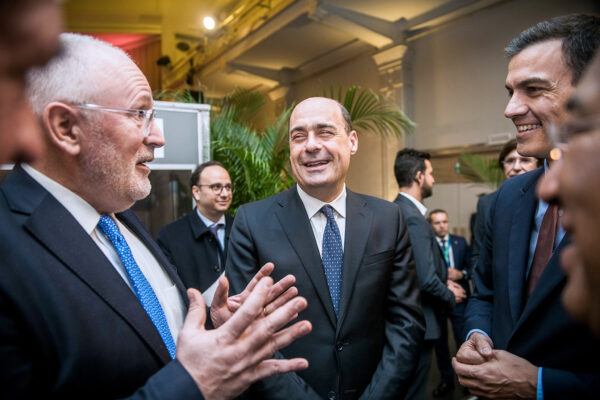 The delay of Brexit could benefit the European left in elections in May.
A poll conducted by Hanbury Strategy for Open Europe found that the British Labour Party could win nearly 38 percent support and close to thirty seats in Strasbourg.
That would make theirs the largest delegation in the Progressive Alliance of Socialists and Democrats (S&D), surpassing the German Social Democrats, and close the gap with the center-right European People's Party (EPP), which stands to gain nothing from Brexit. Theresa May's Conservatives group with the mildly Euroskeptic European Conservatives and Reformists (ECR) instead.
Britain will need to hold European elections if it is still in the EU next month.
Progressive majority
Frans Timmermans, the Dutch commissioner who leads the S&D, is hopeful that a coalition could be formed for the first time without the EPP.
He said on Thursday that his "priority" would be to find a majority based on "progressive and sustainable values" with the Alliance of Liberals and Democrats for Europe (ALDE), French president Emmanuel Macron's En Marche!, the Greens and elements of the far left.
Poll of polls
The latest poll of polls shows the gap between the center-right and the center-left has narrowed to seventeen seats. (There are 751 seats in the European Parliament.)
EPP: 175
S&D: 158
ALDE: 96
ECR: 74
Greens: 49
Far left: 47
This list excludes other Euroskeptic and far-right parties, who are projected to win up to one-fifth of the seats but whose alliances are likely to change.
The figure for ALDE includes the ~22 seats En Marche! is projected to win, although Macron has not officially joined the liberal bloc.
Possible coalitions
Only a broad coalition of conservatives, socialists and liberals would have the 376 seats needed for a majority.
EPP + S&D = 333
EPP + S&D + ALDE = 429
EPP + ALDE + ECR = 345
S&D + ALDE + Greens = 303
S&D + ALDE + Greens + far left = 350