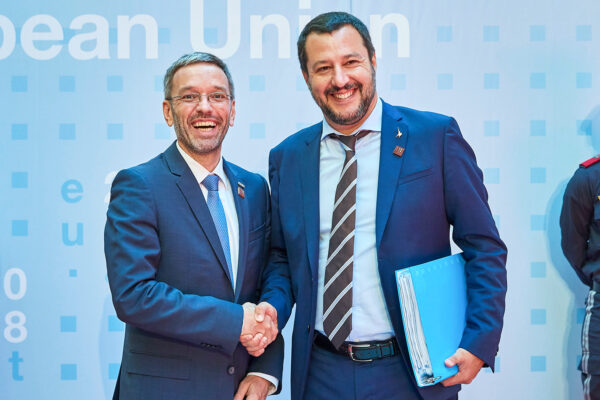 Only three other parties turned up in Milan on Monday, where Italy's Matteo Salvini had announced the launch of a broad Euroskeptic campaign for the European elections in May.
The attendants were the nationalist parties of Denmark and Finland as well as the Alternative for Germany.
Their counterparts from Austria, France, Hungary, Poland and the Netherlands did not show up.
Weakness
It wasn't the only sign of the far right's weakness in recent months, despite polls giving them a combined one-fifth of the seats in the European Parliament.
Hungarian prime minister Viktor Orbán's Fidesz preferred suspension from the center-right European People's Party to joining one of the far-right blocs.
Steve Bannon's "The Movement" has gone nowhere.
Far-right division is nothing new
There are currently three Euroskeptic groups in the European Parliament:
Europe of Nations and Freedom (ENF): The most strident anti-immigrant group, which in addition to Italy's League and France's National Rally includes the Freedom Parties of Austria and the Netherlands.
Europe of Freedom and Direct Democracy (EFDD): Italy's other ruling party, the Five Star Movement, could take over the leadership of this group from the United Kingdom Independence Party, assuming Brexit isn't delayed and EFDD survives without Nigel Farage.
European Conservatives and Reformists (ECR): The respectable Euroskeptic right. Includes Belgium's New Flemish Alliance, Britain's Conservative Party and Poland's Law and Justice. The Danish People's Party and the Finns Party are still in the ECR, despite their flirtations with Salvini. The Netherlands' Forum for Democracy has applied for membership.
Don't bet on these parties setting aside their difference after the elections in May. They have little in common other than their opposition to the EU. Some want to give up the euro, others want to keep it. Some oppose gay marriage, others defend it. Some are borderline antisemitic, others pro-Israel. Many are sympathetic to Russian president Vladimir Putin, but not all.