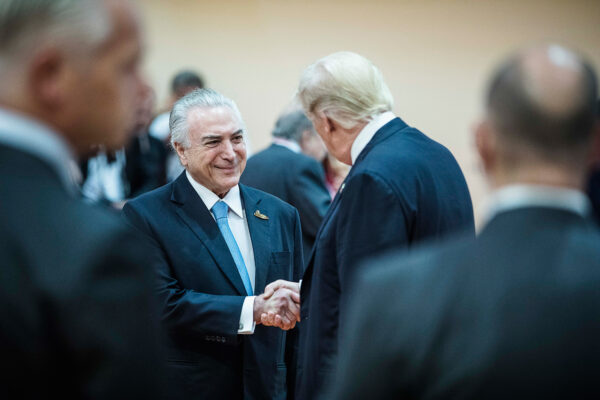 Brazil's presidential election is less than four months away, yet it's still far from clear what will happen.
Level playing field
On the back of an historic political financing scandal, the reputations of the country's major political parties are in tatters and electoral reforms have been made. This year's campaign will be a short one of just 52 days. Businesses are no longer allowed to donate to campaigns and donations are capped at 100 million reais per party.
By comparison, in 2014, Dilma Rousseff of the ruling Workers' Party raised some 300 million.
The rise of outsider candidates, aided by social media, has further leveled the playing field.
As a result, this year's election is one of the most unpredictable in decades.
Lula candidacy
Polls put Rouseff's predecessor, Luiz Inácio Lula da Silva, in first place with around 31 percent support.
The former president has been found guilty of corruption and money laundering and should therefore be barred from running for office. However, a verdict from the electoral court is still pending. As far as the Workers' Party is concerned, Lula remains on the ticket.
There are contingency plans. Ciro Gomes of the Democratic Labor Party, Fernando Haddad, the former mayor of São Paulo, and Jacques Wagner, the former governor of Bahia state, are vying to replace Lula. But none of them are as popular. Polls suggest that up to 60 percent of Lula's supporters would stay home rather than vote for a backup candidate.
Incumbent president Michel Temer is even less popular with 97 percent of voters rejecting him. But Lula is a divisive figure as well. 52 percent of Brazilians oppose his return to the presidency.
The outsider
The most popular "outsider", with around 19 percent support in the polls, is Jair Bolsonaro. He has the strongest social-media presence of all the candidates. A right-wing populist and prominent member of the bullets, beef and Bible caucus, Bolsonaro has harnessed the anti-establishment mood in Brazil.
With 60,000 homicides per year and the military called in to tackle gang violence in Rio de Janeiro, Bolsonaro's hardline approach to law and order appeals to many, including those nostalgic for Brazil's 1964-84 military dictatorship. Only a third of Brazilians still agree that "democracy is preferable to any other form of government."
As head of the Social Christian Party, Bolsonaro's nationalist, racist and homophobic rhetoric has garnered him strong support from the socially conservative right.
Other runners and riders
Where Bolsonaro convinces less is on the economy. He has said little on this front and apart from the evangelicals and security hardliners in Congress, arguably the biggest economic interest group are the ruralistas — the farmers.
The effects of the 2014-16 recession, resulting from the collapse of the commodity boom and the unfolding political crisis, are still felt today. Investments are at an all-time low. Despite a shallow recovery, unemployment remains twice as high as it was in 2012. Internal and external confidence in the future economic management of the country is fragile.
The business-friendly alternative is the experienced Social Democracy Party candidate and former São Paulo state governor, Geraldo Alckmin. Seen as the most likely candidate to implement long-overdue pension reforms, he is also uncommonly uncharismatic and an archetypal establishment figure. His support, as of yet, has not been inflated by the party machinery beyond 6 percent.
Given the circumstances, this election should be a breakthrough opportunity for environmentalist Marina Silva, running for the third time. Indeed, while she is polling at only 14 percent, without Lula, in a run-off against Bolsonaro, she would likely prevail.
Once the distraction of a World Cup is out of the way and the campaign starts in earnest, it should become clear who will win out: the social media-fueled outsiders or the well-oiled major-party machines.