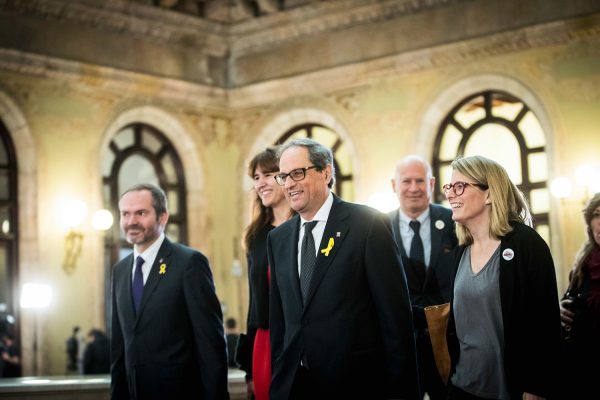 Quim Torra has been elected president of Catalonia with 66 to 65 votes in the regional legislature.
Torra was supported by his own party, Together for Catalonia, and its ally, the Republican Left. Both seek Catalan independence.
The smallest separatist party, the Popular Unity Candidacy, abstained to make it possible for Torra to take office, but it considered his predecessor, Carles Puigdemont, the only legitimate candidate.
Puigdemont, who led Together for Catalonia to victory in December's election, was removed from power by Spain in the wake of the October 1 independence referendum that had been ruled illegal by the Constitutional Court.
Who is Torra?
Torra was the fourth candidate for the regional presidency after Together for Catalonia and the Republican Left failed to inaugurate Puigdemont, who fled Spain to avoid arrest; Jordi Sànchez, who is in jail awaiting trial; and Jordi Turull, who was promptly arrested by Spanish authorities following his nomination.
Torra is an author and a lawyer who has been active for many years in the pro-independence civil society organization Òmnium Cultural. He served as its vice president from 2013 to 2015.
He is a fierce Catalan nationalist. Some of his old tweets dug up by journalists read:
"Obviously, we have been occupied by the Spaniards since 1714."
"Spaniards only know how to plunder."
What's next?
Spain had promised to restore Catalan home rule as soon as the region elected a new president, but on Friday Prime Minister Mariano Rajoy sounded ambivalent.
"155 isn't an article of the Constitution any more. It's a precedent and a procedure that will be available in future if it becomes necessary," he said, referring to the provision Spain used to disband the Catalan government last year.
The unionist Citizens party, which supports, but is not part of, Rajoy's conservative government, has argued that direct rule from Madrid should only be lifted if the Catalans obey the law.
Torra has called for unconditional talks with the Spanish government — which Rajoy rejected with his predecessor — but he has also vowed to respect the October 1 referendum and work to "construct an independent state in the form of a republic".
So for all the drama — removing Puigdemont, suspending Catalan autonomy, holding early elections — it looks like we're back to where we were five months ago.