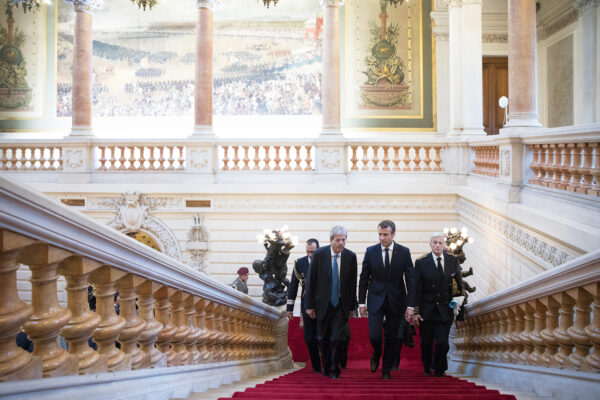 During a visit to Sydney, French president Emmanuel Macron said he wanted to work with the largest democracies in the region — Australia, India, Japan and the United States — to "balance" Chinese power and protect "rule-based development" in Asia.
"It's important… not to have any hegemony in the region," he said.
Australia has eyed accommodation with China since Donald Trump withdrew from the Trans Pacific Partnership in 2017. But Prime Minister Malcolm Turnbull, speaking alongside Macron, insisted his country is still committed to preserving a rules-based order.
France is a Pacific power. It has around one million citizens in the region.
Referendum in New Caledonia
The main purpose of Macron's visit is to show support for an independence referendum in New Caledonia.
Denise Fisher writes in The Strategist that Macron has been careful not to take sides.
Hamish McDonald argues in The Saturday Paper that the outcome could influence a referendum next year in Bougainville on whether to separate from Papua New Guinea. Australia supports the status quo, but McDonald isn't sure it should.
Five Stars call for new elections
The leader of Italy's Five Star Movement, Luigi Di Maio, has called for new elections after Democratic Party leader Matteo Renzi reiterated his opposition to a government deal.
The Five Stars won the most seats in March, but not a majority.
Earlier talks with the nativist (Northern) League failed. It refuses to break its alliance with the party of former prime minister Silvio Berlusconi.
Renzi opposes a pact with the Five Stars, because they want to overturn his signature labor reforms. Others in his party are less adamant.
More reading
Donald Trump's administration has given the EU yet another month's reprieve from aluminum and steel tariffs, but the two sides are no closer to a permanent deal. Jim Brunsden argues in the Financial Times that the EU's challenge is to do everything possible to avoid a trade war, short of being bullied into fighting one.
Rana Foroohar argues in the same newspaper that American businesses want tax cuts as well as better education to train their workers — but refuse to acknowledge the incompatibility between those two.
Ezra Klein tells Quartzy that American men struggle to make friends because their idea of masculinity precludes emotional relationships with other men.