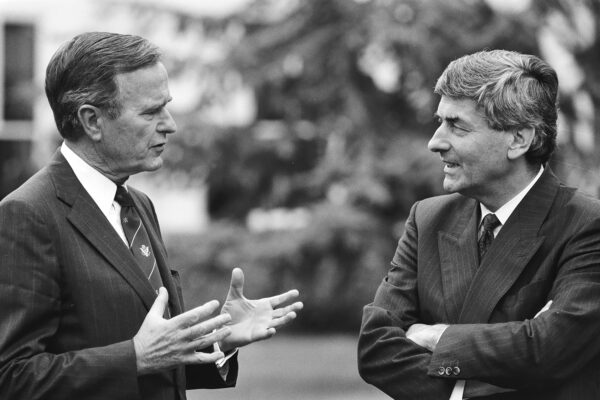 Former Dutch prime minister Ruud Lubbers died on Wednesday at the age of 78. A Christian Democrat, he was the country's longest-serving prime minister, leading three coalition governments between 1982 and 1994.
I had a chance to interview Lubbers when I interned for the Dutch weekly Elsevier in 2012. We were working on an India edition and Lubbers was known to have a relationship with the Gandhis.
In his flat in Rotterdam, Lubbers told me about his first meeting with Rajiv Gandhi, the Indian prime minister, in 1985.
Peace protests
There were mass protests in the Netherlands that year against the deployment of American cruise missiles. The peace movement and left-wing opposition parties feared a nuclear arms race. The right accused the protesters of playing into the Soviet Union's hands. The American missiles were meant to protect NATO against newly-deployed SS-20 intermediate-range missiles in Eastern Europe. Lubbers' own party was split down the middle. The nuclear demonstrations even divided the Church.
Lubbers, skilled in the Dutch art of consensus-building, had stalled. Ronald Reagan himself had assured him, Lubbers told me, that the United States had no desire for an arms race. But so long as the Soviets refused to withdraw their SS-20s, the West could not back down. "Let them sweat first," Reagan said.
So Lubbers delayed. He backed NATO's Double-Track Decision, which committed the Netherlands to hosting Americans missiles but left the door open to removing them if the Soviets withdrew theirs. His government made the decision in 1983 but gave itself two years to implement it.
Running out of time
By October 26, 1985, time was running out. Lubbers was heaving breakfast with Gandhi in The Hague that morning. Hours later, he was due to address a massive peace rally.
Gandhi was interrupted by a phone call. When he returned, the Indian apologized. It seemed the Russians had found out about his visit to The Hague and asked if he couldn't drop by in Moscow as well? A jet-legged Gandhi wasn't looking forward to it, but Lubbers asked him to go.
"India always had good relations with Russia," he recalled. He asked Gandhi if he couldn't gauge the intentions of the new Soviet leader, Mikhail Gorbachev, for him and report back from India? Gandhi agreed. "And that's how it happened."
When Gandhi phoned Lubbers a few days later, the message was encouraging. Gorbachev wanted the Dutchman to know he was sincere about his arms-reduction talks with Reagan and said he expected a deal by next year. Gorbachev advised Lubbers to "get in the back of the line" and do what he did best — stall. So Lubbers did.
Gorbachev and Reagan signed the Intermediate-Range Nuclear Forces (INF) Treaty in December 1987. The SS-20s were withdrawn. The Netherlands never hosted American cruise missiles.
Faith
But on that October afternoon, Lubbers still had to face one of the largest peace rallies the Netherlands had ever seen. He was handed 3.7 million signatures (representing a quarter of the Dutch population) from opponents to the deployment and had to defend his government's decision, knowing Gandhi's shuttle diplomacy might succeed and the Netherlands would never have to accept the weapons.
I asked him if this didn't upset him; if he didn't wish he could have told the crowd he and other leaders were working toward a solution.
Lubbers shrugged. "That's all right," he said. "It didn't really bother me, because I had faith it would end well."