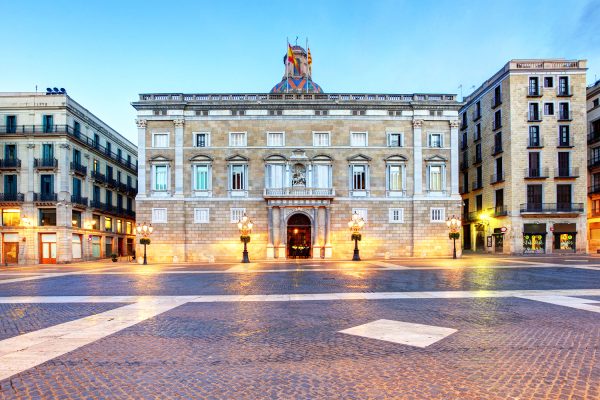 Catalans will elect a new regional parliament on December 21. Here is everything you need to know about the election.
Bottom lines
The only real issue is whether or not to continue the independence process.
Separatist and unionist parties are evenly matched with the balance going to Catalonia in Common, a left-wing party that rejects both independence and Spain's suspension of Catalan home rule.
If the separatists defend their majority and attempt to form another government, there are doubts Spain will let them.
Electoral system
There are 135 seats in the Catalan parliament. 85 seats are allocated to the province of Barcelona, eighteen to Tarragona, seventeen to Girona and fifteen to Lleida, giving the less densely populated areas a slight advantage. Within each province, there is a 3 percent threshold to qualify for seats.
No single party has ever won a majority, necessitating coalition governments usually consisting of multiple parties.
Turnout has risen in recent elections, from 56 percent in 2006 to 75 percent in 2015.
Background
The election was called by the central government of Spain after it suspended Catalan home rule and dissolved the region's institutions on October 26.
This came after separatist parties voted to declare independence in the wake of a referendum on October 1.
92 percent voted to break away from Spain at the time, but only 43 percent of Catalans turned out.
The government and Constitutional Court of Spain regarded the referendum as illegal under the Constitution.
President Carles Puigdemont and four of his ministers fled to Belgium to avoid arrest. The other members of the Catalan government, including Vice President Oriol Junqueras, were detained and charged with rebellion, sedition and misuse of public funds. Six — but not Junqueras — have been released on bail.
Parties
The only real issue in this election is whether or not to continue the independence process. Three parties are in favor, three are against and one refuses to pick sides.
Separatist
Together for Catalonia: A new party led by Carles Puigdemont. It uses the organization and platform of his center-right Catalan European Democratic Party, but candidates were drawn from civil society.
Republican Left: Led by Oriol Junqueras' deputy, Marta Rovira. Contested the last election together with Puigdemont's party but now runs independently in hopes of besting it.
Popular Unity Candidacy (CUP): A small anticapitalist independence party Puigdemont needed for his majority in the last parliament.
Unionist
Citizens: Liberal, progressive and pro-European. Has won votes from the business-friendly European Democratic Party, which only converted to the independence cause a few years ago.
Socialist Party: Once dominant on the left, its lukewarm unionism has caused it to lose support to the Republican Left on the one hand and Catalonia in Common and the Citizens party on the other.
People's Party: Led by Mariano Rajoy nationally. Conservative and unionist, it was never popular in Catalonia and has further fallen in the polls in the last two months.
Neither
Catalonia in Common: An alliance of left-wing parties, including the Catalan branch of Podemos. Led by Xavier Domènech, but the dominant figure in the party is Ada Colau, the mayor of Barcelona. Rejects both the suspension of Catalan home rule and independence — a middle position that has endeared it to few voters. It could nevertheless end up as kingmaker in the next parliament.
Polls
Support for the seven parties has been fairly stable in the polls since the beginning of this month:
Together for Catalonia: 17-20 percent
Republican Left: 20-24 percent
Popular Unity Candidacy: 5-7 percent
Separatist total: 42-51 percent
Citizens: 19-23 percent
Socialist Party: 15-17 percent
People's Party: 5-7 percent
Unionist total: 39-47 percent
Catalonia in Common: 7-9 percent
Possible coalitions
Together for Catalonia, the Republican Left and CUP might just defend their majority. If they do, and form another coalition, Spain may not restore home rule, though.
The Republican Left, CUP, Socialist Party and Catalonia in Common would have a majority, however, the Socialists could not join a government that calls for independence and the CUP could not support a government that doesn't.
The Citizens, Socialists and People's Party may be able to form a unionist government, however, the three have so far ruled out a pact. Joining forces with two center-right parties could be the death knell for the Catalan Socialists.
Puigdemont could attempt to form a minority government. His predecessor, Artur Mas, led two minority governments, first with support from the Socialists, then with support from the Republican Left.