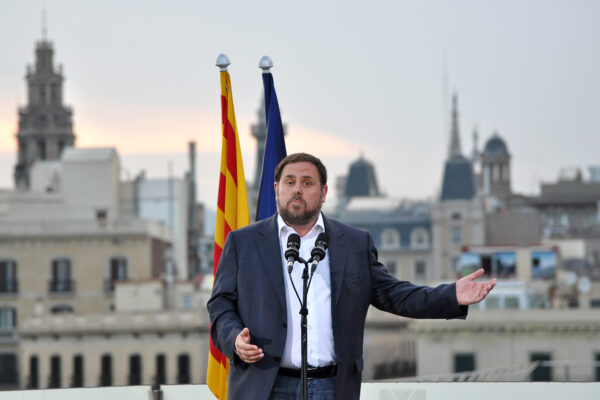 Catalan parties in favor and opposed to seceding from Spain have failed to unite in time for the election in December.
A unionist list proposed by the liberal Ciudadanos has been rejected by the Socialists and People's Party.
A separatist alliance fell apart when the Republican Left conditioned it on the participation of other left-wing parties.
Together no more
Carles Puigdemont, the deposed Catalan president and leader of the center-right Democratic Party, had called for a continuation of the Together for Yes alliance that won 40 percent support and 62 out of 135 seats in 2015.
But the Republican Left, led by the jailed Catalan vice president, Oriol Junqueras, argued for the inclusion of three other parties: Catalonia in Common, led by Barcelona mayor Ada Colau, Podem and the Popular Unity Candidacy (CUP).
Of the three, only the CUP wants to break away from Spain.
Catalonia in Common has rejected the suspension of home rule and criticized the arrest of Junqueras and other Catalan ministers. But it won't go so far as to support secession.
Podem voted on Tuesday to join Catalonia in Common at the urging of the national party, Podemos.
Little change in the polls
Polls give Puigdemont's Democrats — once the dominant force in Catalan politics — little more than 10 percent support.
Pro-independence voters are switching to the Republican Left, which could win an historic 30 percent of the votes.
Other parties would see little change compared to 2015: the Ciudadanos remain the largest party pro-Spanish party; the Socialists are at 13 percent; Catalonia in Common and the People's Party hover around 10 percent each and the CUP is at 8.
Unless there is an upset in the next few weeks, Catalonia in Common will probably hold the balance between pro- and anti-independence parties in the next regional parliament.