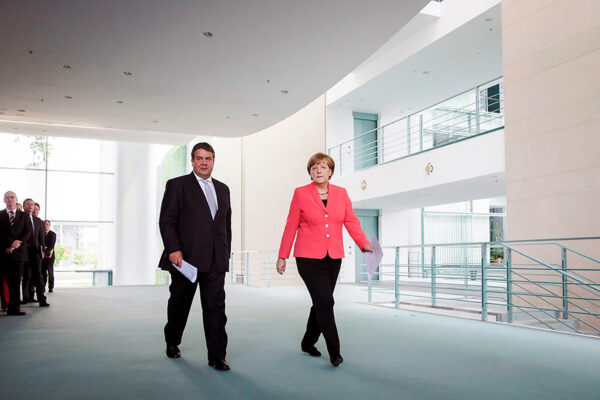 German chancellor Angela Merkel's party promises long-overdue investments in its election manifesto, but a plan for attracting high-skilled migrants is unconvincing.
The Christian Democrats, who are projected to win the most votes in September's election, pledge to sustain recent increases in spending on digitalization and infrastructure and raise spending on research and development from 3 to 3.5 percent of the economy.
German public investment has languished for years as the Christian Democrats prioritized deficit reduction. The Dutch and Swedes invest twice as much in everything from electricity grids to roads.
Tax relief
The good news is there is now a surplus.
Unlike the Social Democrats, who rule in a coalition with the Christian Democrats but will compete with them for middle-class votes, the right wants to use the money for tax relief.
Conservatives have for years wanted to get rid of a 5.5 percent "solidarity tax" that was introduced to help pay for the former East Germany's reconstruction. The manifesto reiterates a commitment to eliminate it.
The plan would also raise the threshold at which the middle, 42-percent income tax rate kicks in from €54,000 to €60,000.
Altogether, personal taxes would be reduced by €19 billion over the next parliament.
Skilled workers
The manifesto is less convincing when it comes to attracting skilled workers from abroad.
The Christian Democrats propose to offer permits on the basis of job offers, but that could make it harder to attract talent.
Non-Europeans are currently allowed to move to Germany if they have either a university degree or enough income. This has lured only tens of thousands of high-skiled migrants to Germany in the last few years — not enough to plug the country's skills gap.
The German workforce is projected to shrink by ten million between now and 2060, the equivalent of all the workers in Bavaria.
The vast majority of the more than one million refugees Germany granted asylum between 2015 and 2016 are low-skilled. The Nuremberg-based Institute for Employment Research has found that less than 15 percent of them have completed vocational training or a college education.
Regulation
Manual laborers — immigrant and native-born — face another challenge: regulation.
Only five of Germany's sixteen states recognize foreign technical qualifications. In the others, a construction worker from, say, Iraq could not run a business or even get a job without applying for a German certificate first.
Other impediments to hiring include the national minimum wage Merkel's outgoing government introduced and new restrictions on temporary work contracts. Both were concessions to the Social Democrats.