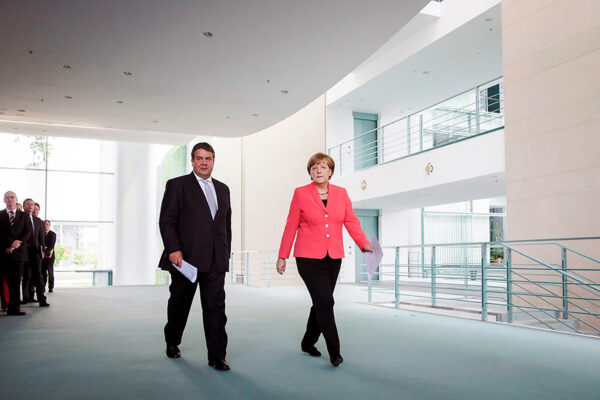 An Americans sanctions bill that explicitly mentions the Nord Stream 2 pipeline has set off alarm bells in Berlin and Vienna.
In a panicky joint statement, the foreign ministers of Germany and Austria urge the United States not to impose "illegal extraterritorial sanctions" on the European companies that are building a pipeline under the Baltic Sea.
Sigmar Gabriel, a social democrat, and Sebastian Kurz, a conservative, warn that such penalties could affect transatlantic relations in a "new and very negative way" and "diminish the effectiveness of our stance on the conflict in Ukraine."
European countries and the United States are currently united in condemning Russia's annexation of the Crimean Peninsula and its support for an insurgency in southeastern Ukraine. Both sides have imposed sanctions on Russia.
Interests
At stake is an extension of the underwater gas pipeline that runs from Russia to Greifswald in northeast Germany. The Austrian and German companies OMW, Uniper and Wintershall are partners in the project together with Anglo-Dutch Shell, France's Engie and Russia's Gazprom.
A bill that passed in the United States Senate on Thursday could be read as enabling the Treasury Department to impose sanctions on those companies.
It has yet to be signed into law by President Donald Trump.
The Americans give two reasons for opposing Nord Stream 2:
It enhances, rather than decreases, Europe's dependence on Russian natural gas, which Moscow has used as a weapon in the past.
They want to promote the export of American liquified natural gas to Europe, which would support American jobs.
The second argument caused the Austrians and Germans to lose their tempers.
"Political sanctions should not in any way be tied to economic interests," they write.
We decide who supplies us with energy, and how they do it, and we do so based on transparency and on free market principles.
But maybe the first argument is why they're so defensive?
Opposition
It's not just the Americans who oppose Nord Stream 2 after all. The former Soviet satellite states in the Baltics and Central Europe are against it as well.
Earlier this month, Donald Tusk, the Polish-born president of the European Council, wrote his European Commission counterpart, Jean-Claude Juncker, to argue that the project does not serve the common European interest.
Even leading German politicians have spoken out against Nord Stream 2, including Manfred Weber, the head of the conservative faction in the European Parliament and an ally of Chancellor Angela Merkel.
They all know that Nord Stream 2 makes no economic sense. Estimates are Russia uses only 60 percent of its existing pipeline capacity. The reason for adding a connection is political: it would allow Russia to bypass Ukraine, which transits around half its gas exports to Europe.
If Russia were to pipe more gas through the Nord Stream network, Ukraine could lose up to €2 billion in annual transfer fees.
Regulations
Nord Stream 2 is due to be completed by 2019, but national regulators, including Denmark's, have yet to sign off on it.
The European Commission could block the project on antitrust grounds, but it has so far shown little willingness to challenge Germany.
It has stood up to Russia.
New competition rules ban Gazprom from writing destination clauses into its contracts, meaning that gas bought from Russia can now be resold to other countries.
Germany reexported thirty billion cubic meters of Russian gas last year, a volume that exceeds the annual gas consumption of nearly every European country.
Another EU regulation, which makes it illegal for companies to bar others from using their pipelines, prompted Russia to cancel the €50 billion South Stream project.