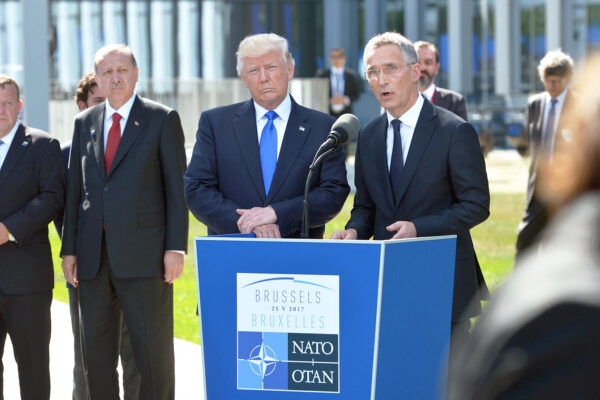 On the eve of a leaders summit in Brussels, NATO has found a way to salvage its partnership program with 41 nations in Europe and the Middle East which Turkey had threatened to suspend.
A last-minute compromise sees Austria withdrawing from NATO peacekeeping operations in the Balkans and Turkey holding back from severing ties with other non-allied partner states.
The Turks were outraged when Austria called on the EU to end accession talks in the wake of last year's failed military coup against Recep Tayyip Erdoğan. His government has since purged tens of thousands of soldiers and civil servants on the pretext of disloyalty. Erdoğan has given himself broad powers and imprisoned opposition leaders.
The Austrians only said what everybody in Europe felt: that the crackdown proved Turkey was not ready for membership.
But Erdoğan, as usual, overreacted, demanding Austria's removal from the NATO partnership program or he would blow up the whole thing.
Kosovo
Carnegie Europe's Judy Dempsey explains what this means concretely.
Various non-NATO countries contribute troops to the KFOR stability force in Kosovo, she points out, where the alliance intervened eighteen years ago. Austria, in fact, is one of the largest contributors.
"KFOR could of course ask NATO countries to compensate for Erdoğan's veto," writes Dempsey.
But the fact that he was prepared to punish NATO by blocking the partnership showed how the Turkish president could hold the alliance hostage.
Kurds
Erdoğan previously refused to give his allies permission to use the Incirlik Air Base in southwest Turkey for strikes against the self-proclaimed Islamic State because he disagreed with their support for Kurdish fighters in Syria.
In this instance, other NATO countries did not cave.
I wrote here earlier this month that Erdoğan had hoped to convince the new American president, Donald Trump, to end Western support for the Kurds. European countries and the United States see them as the most effective fighting force against the Islamic State, but Turkey regards them as separatists.
Trump has not changed policy, though. If anything, he has doubled down, approving the delivery of more weapons to groups which do battle with the Islamists.