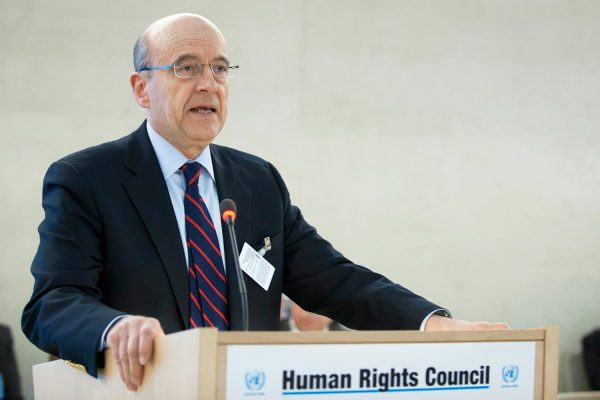 There is a good chance François Fillon will prevail in the second round of the French center-right presidential primary next weekend. The former premier got 44 percent support in the first voting round on Sunday.
His closest rival, Alain Juppé, got 28 percent. Nicolas Sarkozy, the former president, received less than 21 percent support, forcing him out of the race.
It seems unlikely many of Sarkozy's voters will switch to Juppé. Fillon takes a harder line on immigration and identity issues. Like Sarkozy, he also favors rapprochement with Russia.
Juppé, by contrast, emphasizes the need to heal divisions in French society and has spoken out against the right's "Russophilia".
Fillon would by no means be a weak general-election candidate. If he faces off the far right's Marine Le Pen in the second voting round of the presidential election next year, he would probably win. Few polls give Le Pen more than 40 percent support.
But if a candidate from the center-left made it into the runoff instead, Fillon could not be sure of victory. Juppé's chances would be higher.
Will the real reformer please stand up?
Fillon is campaigning as a liberal and not shying away from the label "Thatcherite". He wants to cut benefits and public-sector jobs to reduce government spending from 57 to under 50 percent of gross domestic product. He has proposed scrapping the limit on weekly working hours, raising the retirement age and cutting taxes by €40 billion for businesses.
His proposals aren't new. They've been part and parcel of the center-right's election manifestos for years. The problem is that, once elected, conservatives either fail to follow up on their promises or back down in the face of resistance from trade unions.
That charge can be leveled against all three top contenders for the Republican presidential nomination this year.
During their five years in power, neither Sarkozy nor Fillon, who served as president and prime minister, respectively, from 2007 to 2012, did much to reduce public spending or improve French competitiveness.
Juppé tried to roll back the welfare state and liberalize French labor laws as prime minister in the late 1990s, but he gave up when public-sector unions crippled the country with massive strikes.
If economic reform becomes the most important issue of the 2017 election, voters in the center may well prefer somebody who has actually done it.
Emmanuel Macron, the former economy minister, is running on his own ticket. He was responsible for reforms under the incumbent Socialist administration, including liberalizing intercity transportation and allowing firms to opt out of collective bargaining agreements.
If François Hollande, the current president, doesn't seek reelection, his successor could be Manuel Valls: a reformer like Macron, but also someone with national-security experience.
Elder statesman
Fillon, Macron and Valls are all of the same generation. Juppé, at 71, is the elder statesman in the race.
He supports the same economic policies. But more than that, he embodies normalcy at a time when voters across Europe and North America are losing faith in their democratic institutions.
Not only would Juppé prevent a Le Pen presidency; with the support of traditionalist French voters longing for stability, he could see off a challenge from Macron or Valls as well.
For the French right, Juppé is the safest option.