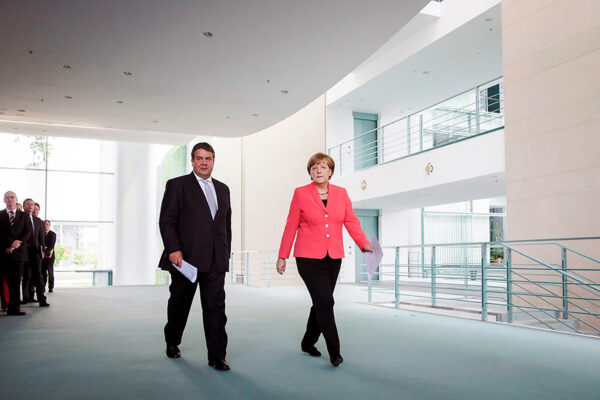 German economy minister Sigmar Gabriel set off alarm bells this weekend when he said European trade talks with the United States have "de facto failed, even though nobody is really admitting it."
The European Commission, which is negotiating the Transatlantic Trade and Investment Partnership (TTIP) on behalf of the European Union's 28 member states, rejected Gabriel's assertion. A spokesperson said, "The ball is rolling right now and the commission is making steady progress in the ongoing TTIP negotiations."
But other trade ministers shared the German's skepticism.
"I don't see it happening"
France's Matthias Fekl said on Tuesday he would formally call for an end of the negotiations next month. "There should be an absolute clear end so that we can restart them on good basis," he said.
The Netherlands' Lilianne Ploumen lamented that without further concessions from the Americans, "I don't see it happening anymore."
Her Italian counterpart, Carlo Calendo, agreed, saying the American position was still "unsatisfactory" and an agreement was unlikely before the end of Barack Obama's presidency next year.
But Calendo also said he expects a deal to be done eventually. "The United States is our main economic and political partner. If we don't negotiate with them," he wondered, "whom else should we negotiate with?"
German opposition
Gabriel, who also leads Germany's Social Democratic Party, has raised doubts about TTIP in the past. When he vowed in May not be "part of a bad deal," I argued here it meant an agreement was unlikely soon.
Gabriel's is the most pro-American and pro-trade center-left party in Western Europe, I pointed out. "If it can't get behind the pact, there is not much chance of completing it soon."
Polls show that around 70 percent of Germans believe the treaty would bring mostly disadvantages.
Gabriel has criticized an American unwillingness to open up public tenders to European companies, but much of the public opposition centers on how the treaty proposes to settle disputes between corporations and governments.
Anti-globalists believe it would give firms the power to weaken European labor and food safety regulations.
Such fears are overblown, but the European Commission has nevertheless come up with an alternative that would create a new international court to hear investment disputes.
The United States have resisted this.
The potential benefits
The benefits of the trade deal would mostly come from harmonizing regulations between European countries and the United States, making it easier for companies to do business in both.
Transatlantic trade is already worth more than $1 trillion per year, making it the largest commercial relationship in the world.
The European Commission estimates that TTIP could boost global economic output by €30 billion per year over the next ten years.
Anti-trade mood
Yet the mood on both sides of the Atlantic has turned against free trade.
The two major party presidential candidates in the United States, Hillary Clinton and Donald Trump, have both voiced doubts about trade agreements.
The ruling Socialists in France have thrown up various roadblocks, from protecting their agricultural products to French cinema. The protectionist Front national, which could come in second in next year's presidential election, opposes the pact outright.
Its Dutch counterpart, the Freedom Party, has been circumspect. It voted against the trade negotiations when they started in 2013 but has since been mum on the issue. It is polling in first place for next year's parliamentary elections, ahead of the ruling center-left and center-right parties.
Canada, yes; America, no
Gabriel not only faces opposition from the far left and the far right but from within his own party, which is governing in a grand coalition with Angela Merkel's conservatives.
Politico reports that many Social Democrats are no less skeptical of a trade agreement with Canada, which has already been negotiated and is pending ratification by the EU's member states.
According to Politico, Gabriel has to tread a tightrope by opposing TTIP while backing the Comprehensive Economic and Trade Agreement (CETA) with Canada.
One of his main political tactics is to try to persuade the electorate that CETA is not a trailblazer for TTIP.
In other words: opposing the treaty with the Americans — which is as good as dead anyway — may just give Gabriel the leeway he needs to wave through the agreement with Canada.