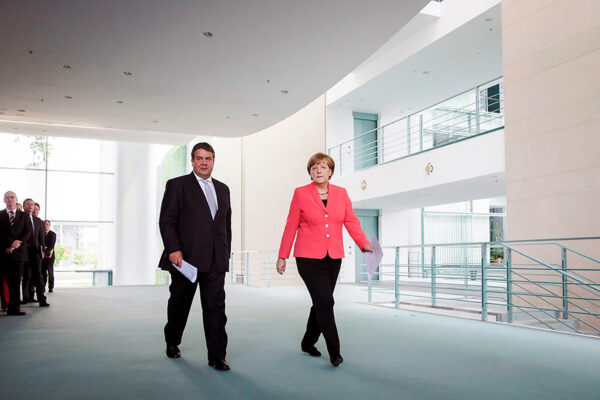 German economy minister Sigmar Gabriel poured cold water on hopes of reaching a transatlantic free trade agreement before the end of the year when he told local newspapers his Social Democrats will not be "part of a bad deal."
Gabriel, who leads the junior party in Angela Merkel's coalition government, said the chancellor "was wrong to say, in the euphoria of Obama's visit to Germany, that we will be able under all scenarios to conclude negotiations this year."
The American president, Barack Obama, urged all parties to make haste when he visited Hanover last month. "If we don't complete negotiations this year," he warned, "then upcoming political transitions in the United States and Europe would mean this agreement won't be finished for quite some time."
The next round of talks are due to take place next month.
Opposition
Gabriel earlier told Handelsblatt that the negotiations could break down if the United States refuse to open up public tenders to European companies.
His is the most pro-American and pro-trade center-left party in Western Europe. If it can't get behind the pact, there is not much chance of completing it soon.
Some 70 percent of Germans now believe the proposed trade agreement would bring "mostly disadvantages," polls show.
Much of the opposition focuses on how the treaty proposes to settle disputes between corporations and governments. Anti-globalists believe it would give companies the power to weaken EU labor and food safety regulations.
Such fears are overblown, but the European Commission has nevertheless come up with an alternative that would create a new international court that hears investment disputes.
The Americans are against this.
Benefits
The benefits of the trade pact would mostly come from harmonizing regulations between countries in the European Union and the United States, making it easier for businesses to operate in both.
Transatlantic trade is already worth more than $1 trillion per year, making it the largest commercial relationship in the world.
Supporters of the treaty, including the European Commission, argue that it would boost global economic output by €30 billion per year over the next ten years.
Contentious
Trade deals have become a contentious issue in American presidential politics. Hillary Clinton, Obama's likely successor, says she would renegotiate a similar pact with Pacific nations while Donald Trump, her right-wing opponent, rejects free trade agreements out of hand.
The mood is not much different across the Atlantic, where elections are due next year in France, Germany and the Netherlands.
François Hollande's Socialists have thrown up several roadblocks, from protecting French agricultural products to cinema. The protectionist Front national, which could come in second, opposes the pact outright.
Its Dutch counterpart, the Freedom Party, which is polling in first place, ahead of the ruling grand coalition parties, has been circumspect. It voted against the trade negotiations when they started in 2013 but has since been mum on the issue.
In Germany itself, opposition comes from the left, mainly in the form of Gabriel's rivals in the Green party, and from the right, in the form of the Alternative für Deutschland. The latter has been eating into Merkel's support.