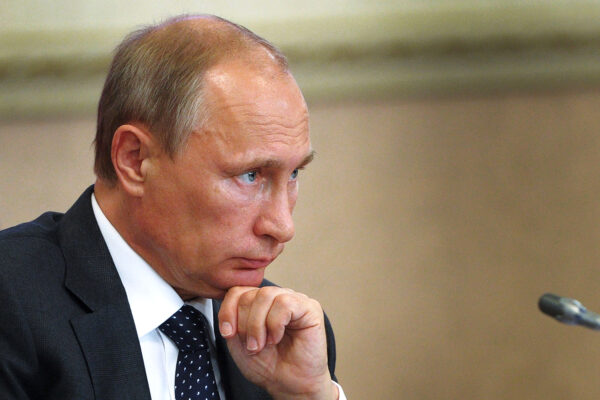 Russia's economic downturn and standoff with the West have given the increasingly authoritarian government of President Vladimir Putin more than the excuse it needs to keep a lid on political freedoms. But requiring constant emergencies to justify one's regime is a treacherous proposition: it could quickly escalate to a point beyond which either ordinary Russians or Putin himself are not willing to go.
The recent creation of a National Guard suggests that Putin is aware of the danger.
Praetorian Guard
Mark Galeotti, a prominent Russia expert, argues at his blog, In Moscow's Shadows, that there would be no reason to create such a new paramilitary force unless there is serious worry in the Kremlin about public unrest.
Even more telling, according to Galeotti, is that the National Guard is directly subordinated to the government, without a minister in the way. With Viktor Zolotov, an avowed Putin loyalist, at its head, it has all the trappings of a Praetorian Guard.
"This may not only be a force to keep the masses in check," writes Galeotti, "but also the elite."
Social contract
András Tóth-Czifra, another Russia watcher and occasional Atlantic Sentinel contributor, argues at his own blog, No Yardstick, that the creation of the National Guard makes Putin look all the more similar to Chechen strongman Ramzan Kadyrov.
Kadyrov's Chechnya is a scary prospect of where Russia could go. As Tóth-Czifra points out, it has a leader who, thanks to generous subsidies from his supporters in Moscow, is able to personally deliver stability and welfare; who is able to crack down on anyone whom he chooses or needs to punish; and who has, at the same time, made himself practically irreplaceable by creating a personal army that follows his orders and his orders alone.
Russia's present social contract is really not such a far cry from Chechnya's.
Gleb Pavlovsky, a former presidential advisor, writes in Foreign Affairs magazine that the state constantly finds or invents "urgent" problems to keep the system working; a system that, in Pavlovsky's words (and he would know), "turns the country's people into temporary operating resources, against their wills and in breach of their rights."
[It] combines the idea that the state should enjoy unlimited access to all national resources, public or private, with a kind of permanent state of emergency in which every level of society — businesses, social and ethnic groups, powerful clans and even criminal gangs — is drafted into solving what the Kremlin labels "urgent state problems."
Putin didn't invent this system. But he perfected it and made himself indispensable to it.
Unraveling
Now the system is starting to fray as a result of Russia's economic crisis (the Financial Times reports that even if the recession ends next year, growth is likely to be flat and most Russians expect the worst is yet to come) as well as its detachment from the West.
Tóth-Czifra reported last year that people were getting frustrated on different levels of the "power vertical".
Uneasy decisions on scarce money costing key people their jobs. Corruption scandals getting to the higher echelons of the Russian elite. Power struggles slipping out of control.
Russia's allies in Armenia and Belarus, Serzh Sargsyan and Alexander Lukashenko, started blackmailing Moscow more brazenly than usual.
Radio Free Europe/Radio Liberty's Brian Whitmore reported that not only Belarus but Tatarstan, a semi-autonomous republic within Russia itself, had been "defying the Kremlin with stunning regularity — and getting away with it."
The region ignored a federal law mandating that it stop calling its chief executive "president." It flouted orders to cut ties with Turkey in the wake of the NATO country's downing of a Russian jet on the border with Syria.
End of the road
Putin's response has been to double down on the same strategy that has kept the Russian system going for so long.
There is a growing risk this will eventually backfire.
Lilia Shevtsova, a Kremlinologist and senior associate at the Carnegie Endowment for International Peace, argues in The American Interest that Russia is exhibiting a funnel logic that is starting to look like suicidal statecraft.
"First," she points out, "the Kremlin creates a problem and then, in trying to deal with it, provokes even more serious problems."
Unable to keep Ukraine in its orbit, it provoked a standoff with the West by annexing the Crimea and is now burdened by the costs of both the peninsula's economic reconstruction and its frozen-conflict dependencies in the Donbas. Seeking to distract the West's attention away from Ukraine, it walked into a confrontation with Turkey when it propped up the dictatorship of Syria's Bashar al-Assad.
In case of ending these conflicts, the Kremlin has to look for a new justification for its "nation at war" survival model.
The late Cold War showed how disastrous military escalation can be for a system that is in an advanced state of decay. It could be even more devastating for Russia today, Shevtsova warns, when it is more dependent on the West than the Soviet Union was.