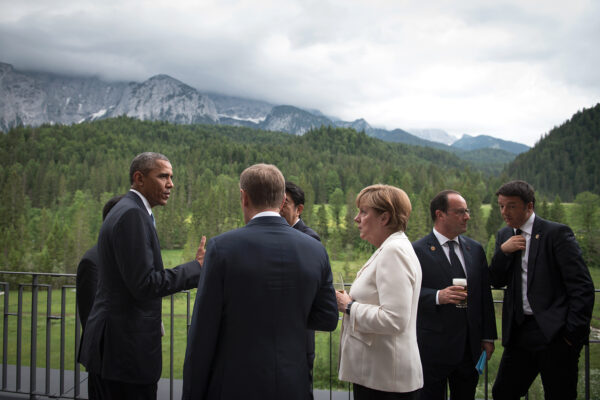 President Barack Obama called for progress in a transatlantic trade negotiations on Sunday, saying that time is "not on our side."
"If we don't complete negotiations this year, then upcoming political transitions in the United States and Europe would mean this agreement won't be finished for quite some time," the American leader warned during a visit to Hanover.
German chancellor Angela Merkel agreed.
"I want to very strongly express my support for using this window of time," she said, speaking alongside Obama. "It won't come back anytime soon."
Protectionists
The campaign for the November elections in the United States is already underway and has seen candidates from both major parties express doubts about liberalizing trade.
Obama's former secretary of state, Hillary Clinton, who is the favorite for the Democratic Party's presidential nomination, has reservations about the Trans Pacific Partnership; a similar agreement with nations across the Americas and Asia.
Donald Trump, the New York businessman who is leading in the contest for the Republican nomination, maintains that all trade deals have done the American worker a disservice.
The mood is no different in Europe.
Surveys show that majorities in Austria and Germany oppose the Transatlantic Trade and Investment Partnership outright. The protectionist Front national is leading in the polls in France, where elections are due in 2017. Pro-trade leaders, like the Netherlands' Mark Rutte, whose country holds the rotating presidency of the European Union, are at risk of losing reelection.
Boost
Negotiations have advanced slowly since they were launched in 2013.
Trade between European countries and the United States is worth more than $1 trillion per year, making theirs the world's largest commercial relationship.
Supporters of the treaty, including the European Commission, believe it could boost economic output by another €300 billion over ten years.
But there are numerous obstacles.
Investment disputes
A provision for the settlement of disputes between companies and governments has drawn the ire of anti-globalists in Europe, who fear it would give corporations the power to weaken EU labor and food safety regulations.
Such fears are overblown, but the European Commission has nevertheless come up with an alternative that would create a new international court to hear investment disputes.
The United States are opposed to this idea.
America first
The United States have also resisted suggestions to level the playing field for American and European companies bidding for government contracts.
Current law compels the American government to give preference to American companies.
Germany's economy minister, Sigmar Gabriel, who also leads the country's Social Democrats, told Handelsblatt the talks could fail if the United States don't budge on this issue.
"The Americans don't want to open their public tenders to European firms," he said. "For me, that's the exact opposite of free trade."
Regulation
Contrasting views on how thoroughly industries should be regulated are also making the negotiations more difficult.
In agriculture, the United States' generous use of antibiotics and hormones in beef is alarming to many Europeans who, in turn, are keen to protect "geographical indications" that would legally bar, for example, an American producer from labeling his cheese "Roquefort".
A 2012 study found that geographically-indicated products account for €54 billion in European food and drinks, or 6 percent of the industry.
Services are another sticking point.
Part of the rationale for the treaty is that trade in services is growing but less liberalized than the trade in goods.
American negotiations have balked at requests from their EU counterparts to exclude up to 200 types of services from the pact. The United States want to exempt four from competition, including coastal marine transport.