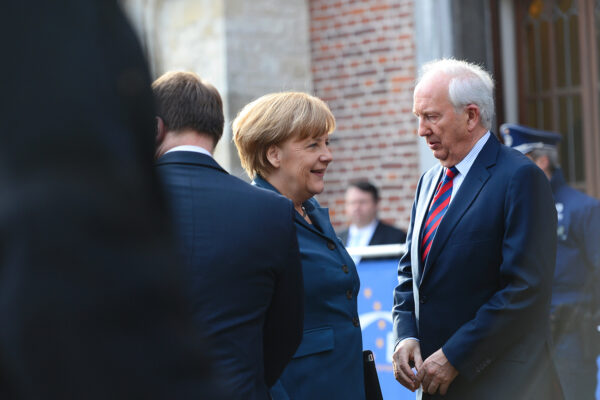 German businesses are largely dissatisfied with Chancellor Angela Merkel's immigration policy.
In a survey conducted for Handelsblatt by the Forsa Institute, 68 percent of managers said they were unhappy with Merkel's open-door policy against 32 percent who support it.
The owners of small and medium-sized companies are the least satisfied whereas 45 percent of executives are large corporations agree with Merkel's approach.
Business leaders big and small nevertheless blamed her resistance to more stringent measures for the rise of the Alternative für Deutschland, an anti-immigrant party that made gains in state elections this weekend.
The survey, coming on the heels of a disappointing election result, is a wake-up call for Merkel, whose Christian Democrats rely heavily on the support of businesses.
Skills gap
High immigration might seem welcome news for enterprise. Germany's working-age population is projected to shrink from around 49 million in 2013 to 34-38 million in 2060, according to government figures. Foreigners could fill the gaps.
Except, as we reported in January, many are not so readily employable in a rich and developed economy like Germany's.
The Nuremberg-based Institute for Employment Research has found that less than 15 percent of refugees from Syria and other countries have completed vocational training or a university degree.
According to the Organization for Economic Cooperation and Development, the average eighth-grader in prewar Syria had reached a level of education only similar to that of a third-grade pupil in Germany.
"Let's not delude ourselves," Ludger Wößmann, the director of Ifo Center for the Economics of Education in Munich, told Politico earlier this year. "From everything we know so far, it seems that the majority of refugees would first need extensive training and even then it's far from certain that it would work out."
Policy mismatch
Merkel got ahead of public opinion last year by letting in around one million immigrants. She has since backtracked by freezing family reunifications and speeding up deportations. But she is still resisting recommendations to cap the number of asylum requests Germany will process, a step neighboring Austria has taken and one polls suggest would enjoy broad support.
Other policies are making it harder to integrate the people who have already arrived.
Most immigrants may not have the skills needed for a high-paying job, but they could do menial work — if only regulation made it easier.
Only five of Germany's sixteen states recognize foreign technical qualifications. In the others, a construction worker from Iraq, say, could not run a business or even get a job without getting a German certificate first.
Other impediments to hiring include the national minimum wage Merkel's government has introduced and her decision to limit temporary work contracts to eighteen months. Both reforms were concessions to the left-wing Social Democrats with whom she govern in a coalition.