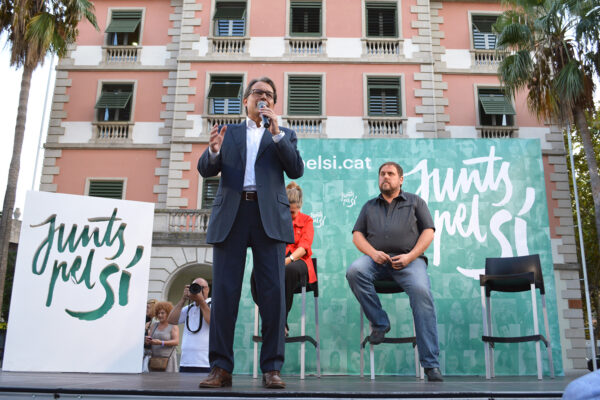 Far-left separatists in Catalonia threw their support behind Artur Mas, the regional president, on Tuesday, entering the Spanish province's government for the first time.
The Popular Unity Candidacy (CUP) won ten out of 135 seats in the regional parliament in September when Mas' alliance fell six seats short of a majority.
The left-wing party had withheld its support from Mas since. Although both seek to break away from Spain, the CUP is anticapitalist and Euroskeptic while Mas' liberals are pro-business and would want an independent Catalonia to stay in the EU.
A CUP assembly is due to approve the coalition deal at a conference this weekend.
Path to independence
Parties that want independence got only 48 percent support in the last election and the central government in Madrid is adamant that the region — Spain's richest — has no right to secede.
Yet the parties have already passed a law that sets Catalonia on a path to "disconnect" from the rest of Spain. It calls for the creation of an independent republic in 2017.
A Catalan tax authority and social security system are due to be erected before the end of this year.
Intransigent Madrid
The regional parliament has also renounced all rulings from Spain's Constitutional Court, which has repeatedly frustrated Catalonia's independence bid.
In 2010, when just one in five Catalans said they wanted to break from Spain, the tribunal threw out most of the region's autonomy statute, adding fuel to the fire of the region's long standoff with Madrid.
After the court blocked an independence referendum last year, separatists said they would interpret the result of September's election as a de facto vote on secession.
National prime minister Mariano Rajoy, who lost his majority in an election on Sunday, has refused to negotiate more autonomy.