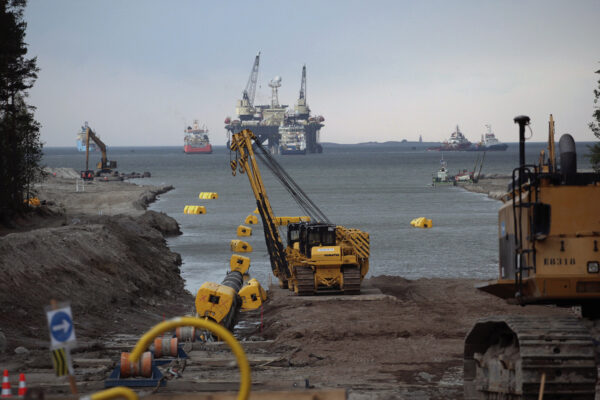 Defying the European Union's efforts to diversify the bloc's gas supply away from Russia, some of the continent's largest energy companies signed deals with Gazprom this month that would double the capacity of the Nord Stream pipeline.
If the extension goes through and Russia builds another gas pipeline through Turkey and the Balkans, it would be able to largely bypass Ukraine which currently transits about half the gas Russia sells to Europe.
Western leaders recognize that "Turkish Stream" is a political project, designed to free Russia from its dependence on Ukraine. Russia is believed to use just 60 percent of its present pipeline capacity. It doesn't need new routes. But it cares more about maintaining the maximum possible leverage over European countries which altogether get about a third of their gas from Russia.
Since Russia's invasion of Ukraine last year and annexation of the Crimean Peninsula, European Union officials have stepped up their efforts to seek alternative gas suppliers and curtail Gazprom's inordinate influence over some member states.
The bloc promotes a Southern Gas Corridor that would pipe gas from countries on the Caspian Sea through Turkey into Europe. It leaned on Bulgaria to pull out of a competing Russian pipeline, South Stream, which was canceled in December. And it urged Greece to back the Southern Gas Corridor instead of Russia's alternative to South Stream.
However, the radical government that came to power in Athens in January is sympathetic to Russia and signed a €2 billion deal to host part of Turkish Stream anyway.
The decision was seen as a snub to Greece's Western allies. Yet some of those same allies are now leaving Eastern European member states like Greece, which are almost wholly dependent on Russian gas imports, as well as Ukraine, which is fighting a Russian-backed insurrection in its southeast, in the cold — prioritizing their own energy security over the bloc's efforts to become more independent of Russian gas.
At an economic forum in Saint Petersburg this month, Anglo-Dutch Shell, Austria's OMV and Germany's E.ON signed a memorandum with Russia's gas monopoly Gazprom that would see them double the transit capacity of Nord Stream within the next five years.
As is the case with Turkish Stream, the deal seems to make little economic sense. Nord Stream, which runs from the Gulf of Finland to Germany under the Baltic Sea, uses only half its capacity of 55 billion cubic meters. Laying two additional lines to double the system's capacity is unnecessary, especially if Northern European countries are serious about diversification and buying more gas from Norway, Qatar and eventually the United States — which could ship liquified shale gas overseas.
The deal also opens up those countries that have taken the hardest line with Greece to charges of hypocrisy.
Austria, Germany and the Netherlands — three of the eurozone's richest countries — consistently ruled out Greek relief from austerity measures and its gargantuan public debt. The far-left Syriza party that rules the Balkan country may have felt pushed into Russia's arms by these creditor states' rigidity. They nevertheless asked Greece to do what was best for Europe as a whole by picking the Southern Gas Corridor over Turkish Stream — and then proceeded to safeguard their own vital gas link with Russia just in case.