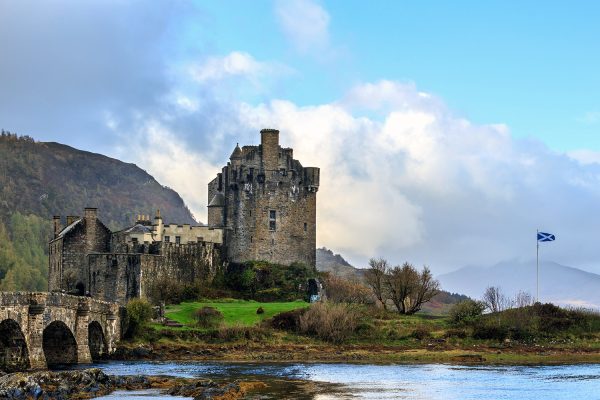 Scottish nationalists could win by far most parliamentary seats in the region in May's election, polls released on Wednesday showed, depriving Labour of any chance to beat Britain's ruling Conservatives.
Polling by the Conservative peer Michael Ashcroft revealed the Scottish National Party, which already commands a majority in the regional legislature, would win fifteen out of sixteen closely-contested seats currently held by Labour.
Extrapolating Ashcroft's polling results, May2015, an election website from the New Statesman weekly, estimates that the nationalists will win 56 out of 59 Scottish seats in the next general election.
If we apply Ashcroft's polls across Scotland, the SNP is projected to win 48 percent of the Scottish vote and Labour just 23 percent. That is a complete reversal of 2010, when Labour won 42 percent and the SNP 20 percent.
The New Statesman's political editor, George Eaton, described the projection as a "political earthquake," one even the most optimistic Scottish National Party members did not see coming. May2015 points out the party hasn't even fielded candidates in all the constituencies it is now predicted to win.
Labour currently holds forty seats in Scotland. Were it to lose even half — "which would now be considered a success," according to Eaton — it would need to gain 88 seats in England and Wales to secure an overall victory. That seems impossible, especially when the party has gone to such lengths to alienate voters in the south of England. It recently advocated a new housing tax, one that would almost exclusively affect wealthier residents of London and the South East, in order to pay for extra nurses in Scotland.
The collapse of Labour in Scotland would seem to benefit Prime Minister David Cameron's Conservatives who are more likely to maintain their plurality in Parliament if the left is divided.
However, if neither the Conservatives nor Labour win an outright majority, the Scottish nationalists could hold the balance of power. Going by Ashcroft's polls, theirs would be the third largest party in the House of Commons.
A coalition with the Conservatives is unlikely. The Scottish National Party is ideologically closer to Labour but there are key differences. The former wants to devolve even more powers to Scotland than the other major British parties have already agreed to. It also wants to remove the Trident nuclear submarines from Faslane, a naval base west of Glasgow.
If the Conservatives managed to secure a majority after all, possibly in coalition with the Liberal Democrats, the Scottish National Party still benefits, argues The Spectator's Fraser Nelson. "Remember, their political model is based on grudge and gripe. Without a villain, Alex Salmond won't have a pantomime."
Scotland's former first minister, who resigned late last year after failing to persuade a majority of Scots to vote for independence in a referendum, is standing for Parliament in the constituency of Gordon.