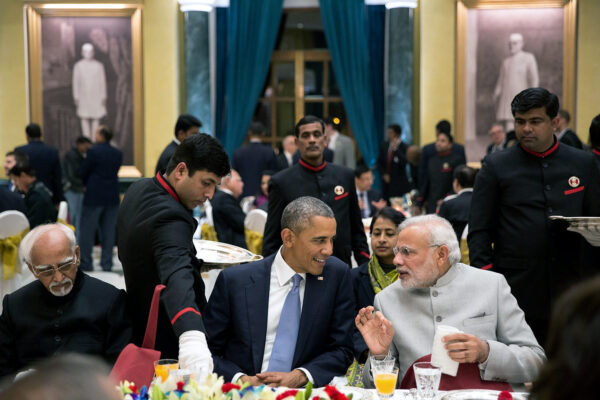 American president Barack Obama's recent visit to India supposedly saw the conclusion of some far-reaching agreements, including on defense cooperation, specifically missile defense, technology transfer and the operationalization of the dormant nuclear agreement Obama's predecessor, George W. Bush, negotiated with India in 2005.
All of this cements the image of India's new prime minister, Narendra Modi, of being both a strategic thinker and a doer.
But this is at the political level. At the operational level, things are controlled by a bureaucracy that remains deeply anti-American and is ingrained in leftist nonaligned thought. It may well fail to implement or even block the implementation of the latest agreements.
The clearest sign of the Indian bureaucracy's ingrained anti-Americanism came from the visible euphoria of officials who were part of the negotiations. This in spite of the fact that no public announcements were made.
The Delhi diplomatic grapevine indicates that the Americans had never met an Indian leader who was so willing to "talk business" and help contain China.
India is a country with an acute governance deficit. Its bureaucracy that has no inkling of modern economic thought and zero experience with information age technologies. This may ultimately prove to be the biggest roadblock to a brave new era in Indo-American relations.
Take, for example, the purported agreement on building American nuclear reactors in India. India's goal has been to get a first dozen or so reactors from abroad, gradually absorb the technology and then produce the same designs domestically at a fraction of the cost with some of the technological knowledge gained migrating into the military nuclear program.
The issue is that every Western-designed reactor depends on reactor vessels fabricated by Mitsubishi heavy industries in Japan, a country that has a similarly strong bureaucracy ingrained in nonproliferation and is unwilling to conclude a nuclear deal with India for this very reason.
This is not to say that the United States or France would be incapable of independently designing and milling a reactor vessel. But given the miniscule number of new reactors commissioned each year, the economics simply don't support the creation of industrial facilities to produce, at best, ten to fifteen reactor vessels. As a result, even if General Electric and Westinghouse — the two American energy companies looking to export reactors to India — agree to the compromise reached with India on liability, going forward is an extremely difficult proposition.
The second set of agreements signed had to do with India slowly making its weapons systems more interoperable with NATO standards and transfers of American military technology. Here again the Indian bureaucracy's lack of economic training could greatly impede operationalization.
Much of what India has invested in is NATO incompatible, specifically its fleet of Russian tanks and warplanes. Indigenous destroyers and frigates are also equipped with Russian sensors and weapons.
As a result, the kind of seamless interoperability that would bring serious synergies to play is largely either out of reach for around 70 percent of India's armed forces. The remaining 30 percent is too small in terms of quantity to make a major difference, especially now the deal for the French Dassault Rafale fighter plane is now on the brink of collapse.
Moreover, India's foggy ideas about nonalignment means that interoperability is both "undesirable and unnecessary," as one senior military officer put it.
The net result is that future Indo-American cooperation at the strategic level is held hostage at three levels — all structural.
The first is the bureaucracy. The second is a largely non-NATO compatible military that does not wish to be NATO compatible. The third is the fact that India is a third-world economy. Its demographic bulge and collapsing education system mean it will have to focus on quantity manufacturing rather that high-value addition, quality manufacturing that Western technology represents.
This, combined with a chronic lack of civil-military integration in the manufacturing sector, means that Indian industry cannot sustain the manufacture of low volumes exclusively for military purposes when it is not properly integrated into global civilian supply chains.
Signs of change in at least one of these sectors, the bureaucracy, are visible. The new government has not hesitated to transfer or sack obstructionist or underperforming bureaucrats and officials who do not agree with its policy. But this represents a change on only one of the three structural plains that will determine the operationalization of meaningful Indo-American relations with the other two seemingly untouched.
Irrespective of Modi's willingness to cooperate with the United States, his country's reputation as one failing in terms of governance will likely act as check on meaningful cooperation for the foreseeable future.