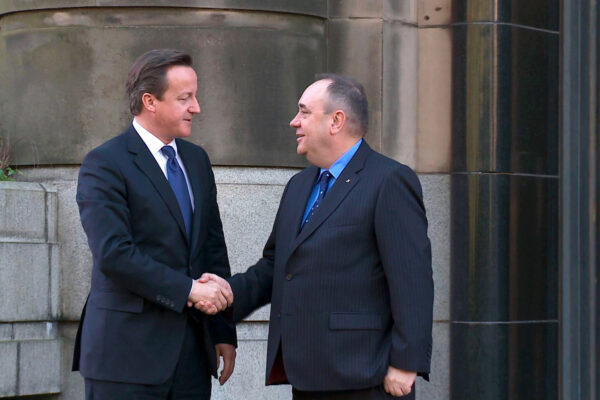 Former Scottish first minister Alex Salmond announced on Sunday he would stand in next year's general election in Aberdeenshire, an area his Scottish National Party is almost certain to win. He could emerge as kingmaker in Westminster.
Salmond resigned as Scottish leader last month after a referendum on independence showed a majority of Scots in favor of remaining in the United Kingdom. Salmond had campaigned for secession.
His Scottish National Party remains the ruling party in Scotland, however, and is expected to win up to forty seats in the national legislature in Westminster next year, against the six it holds now. That could potentially give it the balance of power if neither the Conservatives nor Labour wins an outright majority.
Salmond hinted at the possibility of playing kingmaker on Sunday. "No overall majority seems the most likely outcome of the Westminster elections and therefore the opportunity exists for Scotland to emerge from next year's election in a commanding position," he said.
It seems unlikely the Scottish nationalists would consider keeping Prime Minister David Cameron and his Conservative Party in power. Salmond's is a rather leftist party that had hoped opposition to the government's austerity policies would convince a majority of Scots to vote for independence.
A coalition with Labour might be possible but only if it agreed to devolve more powers to Scotland and remove the Trident nuclear submarines from Faslane, a naval base west of Glasgow.
However, many of the Scottish National Party's new seats would come at the expense of Labour. The parties compete for the same class of voters.
Salmond said he was returning to politics because the major British parties, including Labour, had reneged on their promise to give Scotland true autonomy if it voted against independence in September. "The Westminster parties will concede to Scotland as little as they can get away with," he said. All the region would get is "real control of one more tax and a small proportion of welfare spending. It would leave Scotland still in the clutches of Westminster austerity."
That seems a bit unfair. Under the latest proposals, the Scottish Parliament would get control over air passenger duties, housing credits, income taxes and winter fuel payments. It would also get additional welfare competencies. Altogether, the reforms, if enacted, would represent the biggest transfer of power to the region since the Scottish Parliament was set up in 1999.