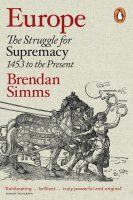 Historians tend to discourage each other from writing sweeping histories. Usually that's good advice. Few individuals know enough to write "the" history of peasantry or "the" history of the fifteenth century or "the" history of France. Better to devote a few years of your life to writing a thorough history of peasant life in fifteenth-century France than try to be the next Fernand Braudel.
We still want the best historians to at least make an attempt at grand narrative, or we couldn't see the forest of history through the microhistory trees.
Good examples from recent years include John Darwin's After Tamerlane (2007) and Peter Frankopan The Silk Roads (2015) for inner, and Victor Lieberman's Strange Parallels (2003, 2009) for coastal, Eurasia, and Jack Goldstone's Why Europe? (2008) for the rise of the West (far superior to Niall Ferguson's more popular book on the topic).
Brendan Simms' Europe: The Struggle for Supremacy is a lesser entry in the genre. Read more "Struggling Through Simms"