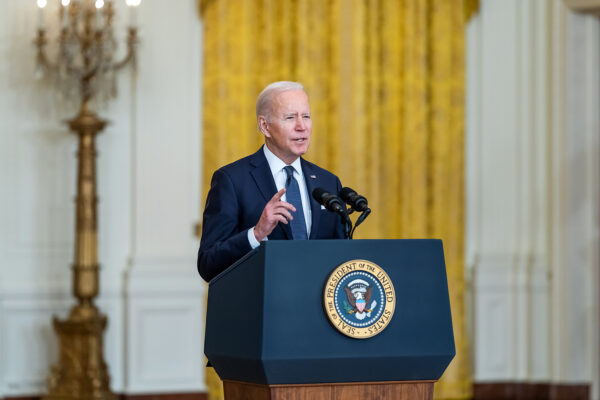 American president Joe Biden has stopped sending migrants back to Mexico under Title 42. His Republican predecessor, Donald Trump, invoked this public-health statute during COVID-19 to close the southern border for immigration.
The repeal has triggered an increase in border crossings, prompting Biden to send troops.
But it isn't the only reason immigration has increased since Biden took over from Trump in 2021. The Democrat relaxed more policies, and toughened others.
What is Title 42?
"Title 42" refers to a section of public-health law that allows the government to refuse migrants entry into the United States when there is a threat of communicable disease. It was written in 1944 and activated by then-President Trump in 2020. All migrants, including asylum seekers, who showed up at the southern border were returned to Mexico, or their home country if Mexico refused to take them back.
2.7 million expulsions were carried out under the policy, according to US Customs and Border Protection. In nearly one in two cases, the expelled migrant had been expelled at least once before.
President Biden has officially ended the COVID-19 health emergency. Application of Title 42 is lifted with it.
What else has Biden done?
Ended Trump's country-based travel bans, including for many majority-Muslim countries.
Repealed Trump's various visa restrictions. (The libertarian Cato Institute has the details.)
Ended the separation of migrant children from their parents on the southern border.
Upgraded the Deferred Action for Childhood Arrivals program from a policy memorandum to a regulation. It allows migrants who were brought to the United States illegally as children to remain in the country.
Extended "Temporary Protected Status" to nationals of Afghanistan, Burma, Cameroon, Ethiopia, Ukraine and Venezuela, allowing some 700,000 foreign nationals to remain in the United States without legal residence or a visa.
A bill to give permanent status to Afghans has so far failed in Congress.
Required immigrants to schedule an appointment at one of eight ports of entry via a mobile app to apply for status.
There aren't enough appointments available. On Thursday, 62,000 migrants tried to apply for the first 1,000 appointments available in two weeks' time, according to The New York Times. The largest groups of applicants were from Cuba, Haiti, Honduras, Mexico and Venezuela.
"Parole" 360,000 immigrants from Cuba, Haiti, Nicaragua and Venezuela per year if they can find an American sponsor and pass a background check.
Expel migrants from the same four countries who entered the United States without applying.
Parole allows an immigrant who is ineligible for asylum or another status to stay for humanitarian reasons.
360,000 is more than the total number of migrant visas issued to Cubans, Haitians, Nicaraguans and Venezuelans in the last fifteen years. Employers who are short on workers are keen to sponsor Latin American immigrants.
Extended family reunification parole to nationals of Colombia, El Salvador, Guatemala and Honduras.
That means an immigrant can stay if they have a family member who is a legal resident or citizen of the United States.
According to The New York Times, "these temporary humanitarian programs could become the largest expansion of legal immigration in decades."
Instructed Immigration and Customs Enforcement to prioritize deporting recent border crossers instead of the estimated 11 million foreigners who have lived in the United States illegally for longer.
Deportations fell to 72,100 in the fiscal year 2022, down from an average of 233,000 per year under Trump and 344,000 per year under Barack Obama.
What has been the effect?
Even proponents of liberal immigration reform, like Kathleen Bush-Joseph and Muzaffar Chishti of the Migration Policy Institute, recognize that the rise in emigration to America "may have been partly prompted by the administration's actions … to shield immigrants from deportation and provide humanitarian protections, as migrants expected a warm welcome in the United States after four years of Trump."
In addition to those "pull" factors, there are "push" factors in South America: economic depravation and political repression in Cuba, Nicaragua and Venezuela.
Border officials have processed an average of 10,000 migrants per day for the last week, double the daily arrivals in March. They estimate that 1.2 million immigrants entered the United States illegally last year.
Some 25,000 immigrants are in custody. The number could reach 45,000 by the end of May. Border Patrol has capacity to hold 19,000.
150,000 migrants are believed to be traveling to the United States though Mexico.
Unclear if parole is slowing illegal border crossings
The possibility of parole and threat of expulsion appear to have slowed illegal immigration by Cubans, Haitians, Nicaraguans and Venezuelans.
Linda Chavez reports for The Bulwark that nearly all the migrants she saw at an asylum shelter in Arizona were from Africa and South Asia, "about 85 percent from India and others from Mauritania and elsewhere."
But according to the Texas Department of Public Safety, many of the migrants crossing the Rio Grande — the river separating America from Mexico — in the state were Venezuelan, some 21,000 in the last two weeks.
What is Biden doing now?
Deploy 1,500 soldiers to the border.
They will join 2,500 National Guardsmen already assisting Border Patrol.
Open migration centers in Colombia and Guatemala, staffed by American personnel, where asylum seekers can apply.
Disqualify migrants from asylum if they crossed the border illegally and failed to apply for asylum in another safe country on their journey, like Mexico.
Deport migrants without a court hearing if they do not seek asylum or fail to establish a credible fear of persecution.
This should alleviate pressure on immigration courts, speeding up procedures for applicants who did flee for their lives.
Ban deportees from applying for status for five years.
What should he do next?
1.6 million migrants are waiting for an asylum hearing, more than ever. Speeding up the immigration court system should be a priority.
Biden has hired 100 immigration judges, but there are still just 600 for the whole country. It takes four years on average for an asylum case to be decided. The delay is one reason one in four immigrants don't show up. Most join the 11 million already living, and usually working, in the United States without papers.