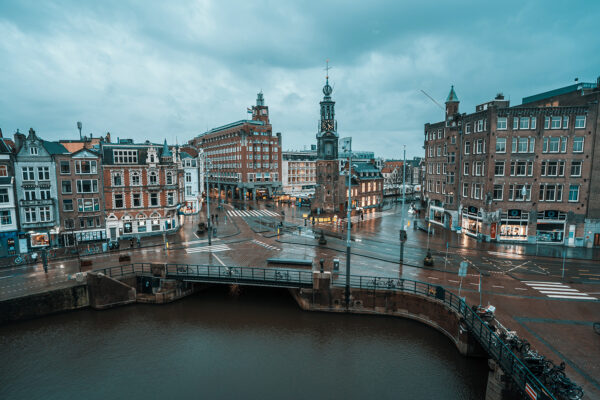 The Netherlands is becoming a case study in how not to regulate rents. An expansion of rent control is driving investors and landlords to despair. Appeals by banks, pension funds, the International Monetary Fund (IMF) and Organization for Economic Cooperation and Development (OECD) are falling on deaf ears in The Hague.
The European Commission is the latest international body to urge the Dutch government to reconsider. In its annual policy recommendations to member states, it cautions the Netherlands that its "policies regarding the private rental market risk undermining its development."
[T]he private rental market is relatively small, which results in a limited supply of affordable and available alternatives to buying a house. The lack of affordable rental housing also undermines labor mobility.
There are 440,000 job openings. 360,000 Dutch people are still unemployed. A shortage of affordable housing, especially in major cities, is a factor. The average waiting time for a nonprofit social-housing apartment in Amsterdam is thirteen years. Yet the government would make it less lucrative to rent out homes for profit.
Landlords are selling rental homes
Investment in rental properties fell 51 percent in the first quarter of this year, according to real-estate services firm Capital Value. Rising interest rates and high construction costs are only partly to blame:
Investors are also waiting to see how the regulation of the middle rental market and announced increase in real-estate transfer tax will pan out.
Many landlords aren't waiting. 92 percent told the trade group Vastgoed Belang that they are selling, or considering selling, their properties.
Pararius, a popular housing platform, already sees landlords selling vacant apartments "out of precaution".
The number of available free-sector rental homes is falling drastically. Demand for rental housing remains high.
CBRE, another real-estate services firm, expects that between 50,000 and 100,000 rental properties will be sold this year.
The remaining rental homes are becoming more expensive.
Pararius found that rents are up 6 percent in Amsterdam and 5 percent in Rotterdam from last year. Compared to two years ago, rents in Amsterdam are 15 percent higher and in Rotterdam 12.5 percent.
The only good news is for buyers. After a decade of spiraling prices, homes became 4 percent cheaper in the first quarter of this year. ING, the largest Dutch bank, projects another 6 percent drop in value.
Consequences of rent control are well-known
This shouldn't be surprising. As I wrote here in December, the consequences of rent control have been the same everywhere it has been tried:
Owners sell their properties instead of renting them out, causing shortages.
The landlords who don't sell underinvest in maintenance.
New developments don't happen.
Renters who can keep their contracts benefit from lower rents.
Everyone else loses out.
The German Institute for Economic Research (DIW) recently reviewed sixty studies from eighteen countries on rent control and concluded:
[R]ent control leads as a rule to higher rents for uncontrolled dwellings. The imposition of rent ceilings amplifies the shortage of housing. Therefore, the waiting queues become longer and the would-be tenants must spend more time looking for a dwelling. […]

The tenants occupying the controlled dwellings have little incentives to leave. This can have negative consequences for the labor market, for a lower residential mobility implies less flexible responses to the labor market shocks. If the employment situation deteriorates in their city, the tenants of controlled dwellings are less likely to move to other places where there are brighter perspectives of finding good jobs.
Reforms would decimate private rental market
The Dutch government — which includes my own liberal party — is nevertheless going through with reforms that would decimate the private rental market:
Raise the ceiling for rent control — the line between "social" and free-sector" housing — from €760 to €1,100 per month.
This will bring some 80 percent of free-sector rental properties — 430,000 — into regulation.
Cap rent increases in social housing at .5 percent, and in free-sector housing at 1 percent, above the average salary increase.
This year rent increases were capped at 4.1 percent, far below inflation.
Raise real-estate transfer tax from 2 to 10 percent.
Raise property tax from 31 to 32 percent over an assumed appreciation of 6 percent, up from 4 percent.
In reality, and partly as a result of the government's own policies, home values are going down, not up.
Ban the renting out of poorly insulated homes in 2030.
Requiring investments in wall insulation and double-glazed glass; money landlords won't have as a result of rent control and tax increases.
Making it almost impossible to ever evict renters. An exception is made for students.
Everyone thinks this is nuts
NEPROM, the trade association of Dutch developers, warns that the reforms disincentivize the construction of new rental homes:
Entire construction projects and real-estate developments are becoming unfeasible.
IVBN, which represents real-estate investors, writes:
New construction projects and the greening of the existing housing stock threaten to become financially unfeasible.
Michiel Vrijman, managing director of Heimstaden Netherlands, which rents out almost 150,000 homes across Europe, told the FD newspaper:
Construction is becoming entirely impossible while Heimstaden wants to grow in the Netherlands.
Orange Capital Partners told De Telegraaf they are moving money into real estate abroad:
Homes will not be built, because the market has become unpredictable due to the accumulation of regulations.
The Federation of Dutch Pension Funds, many of which invest in real estate, worry it is becoming "impossible to invest with a reasonable and responsible financial return."
Any relaxation of the proposed measures would help.
The Dutch Banking Association warns:
The government's strong focus on regulating and reducing rents in a deteriorating investment climate, with sharply rising interest rates, is leading to a reduced supply of affordable rental homes.
The Dutch central bank agrees:
In the short term, regulation of the mid-rental market will help make these homes more affordable. But in the long term, a reduction in returns on investment could lead to a smaller midrange segment as investors pull out.
What should the Netherlands do?
The Netherlands has the largest share of social housing in the rich world by far. One in three homes are owned by nonprofit housing corporations, which are only available to low incomes and strictly rent-controlled. The only country that comes close is Austria with 25 percent. Averages in the EU and OECD range from 6 to 7 percent.
The recommendation of both, and the IMF, is to expand the private rental market.
The European Commission:
In the rental market, a reform to help improve its functioning should allow a more market-oriented pricing mechanism by reconsidering rent ceilings and rent indexation [and] scaling down the very large social housing segment…

Labor mobility would also be enhanced by reforming the social housing system. Those in social housing often face substantial marginal costs when they wish to move, because of the ensuing loss of the entitlement to social housing. […] Focusing the provision of social housing on those who really need it and facilitating moving would improve human capital allocation. On balance, the current set-up crowds out the private rental market and limits its size, impeding its buffer role also with respect to the purchase segment.
The IMF:
While most low-income tenants have access to the large — and rent-controlled — social housing stock, groups of the population ineligible for such benefits and unwilling or unable to buy a property are confronted with a market characterized by a scarcity of affordable rentals.
Those earning up to €44,000 per year qualify for social housing. The median wage in the Netherlands is €38,500. Mortgage requirements tightened after the 2008-09 housing crisis have make it difficult for the country's 1.1 million self-employed workers to buy a home.
The OECD:
[L]ow- and middle-income households, notably single persons, that do not qualify for social housing and at the same time cannot access sufficient mortgage and equity to buy, are left with few housing options.
And they will have even fewer.