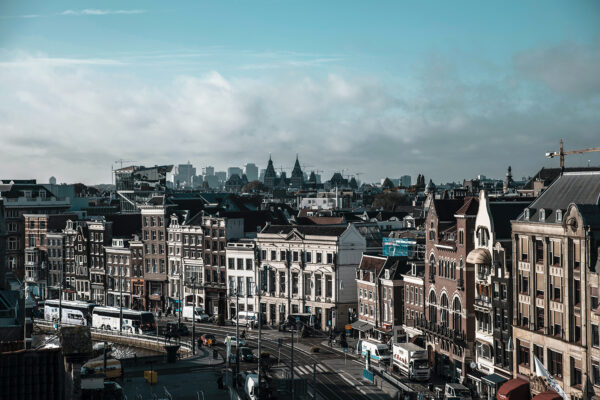 Regulation is driving up rents in the major cities of the Netherlands — and exacerbating the nation's record housing shortage.
According to Pararius, a real-estate listings website, average rents have gone up 4 percent in Amsterdam, The Hague and Rotterdam this year.
Rents rose 11 percent in Amsterdam last year.
Pararius' Jasper de Groot blames the Dutch housing minister, Hugo de Jonge, who is bringing some 330,000 rental apartments into regulation.
De Jonge expands rent control
Currently only properties rented out for €760 per month or less are strictly regulated. Most are owned by nonprofit housing corporations. Renters qualify if they earn less than €44,000 per year, which is slightly above the median wage. Higher-priced rentals are considered "free sector".
One in three homes in the Netherlands — and 60 percent of rental homes — are rent-controlled. De Jonge would expand the share by raising the ceiling for rent control to €1,100 per month.
Rent increases would be limited to .5 percent above the average salary increase.
Landlords preemptively sell properties
De Groot warns that especially small landlords are preemptively selling properties to avoid being trapped by the new rules:
The number of available free-sector rental homes is drastically decreasing. The demand for rental housing remains high.
Sophie Kraaijeveld, a real-estate banker at ING, agrees:
It is no longer profitable for many owners of rental homes to rent out these properties, so they are putting them up for sale.
Kraaijeveld is seeing rents go up in Utrecht and Eindhoven, the Netherlands' fourth and fifth largest cities, as well.
Housing prices fall
CBRE, a real-estate services firm, expects that between 50,000 and 100,000 properties now rented out for more than €760 per month will be sold before the end of the year.
De Volkskrant reports that 9 percent of homes for sale in Amsterdam are former rental properties. In The Hague, the share is 7 percent.
That's good news for buyers. Housing prices have fallen 8 percent in the last year.
But renters who don't qualify for a mortgage have nowhere to go. The average waiting time for social housing in Amsterdam is thirteen years. The Netherlands has a housing shortage of 315,000.
Landlords also pay more tax
The increased threshold for rent control is the latest in a slew of measures that have hurt landlords:
De Jonge maximized free-sector rent increases at 3.3 percent last year and 4.1 percent this year, far below inflation.
Real-estate transfer tax has gone up from 2 to 10 percent in three years.
Property tax went up from 31 to 32 percent this year over an assumed appreciation of 6 percent, up from 4.
In reality, most homes are losing value.
No money left over for renovations
If landlords can't turn a profit, they won't be able to invest in renovations, warns Heimstaden. The Scandinavian company rents out 150,000 properties in ten European countries, including the Netherlands.
De Jonge would ban the sale of gas-powered boilers in favor of electric heat pumps in 2026. He has also required landlords to install double-glazed windows and insulation by 2030.
It can take homeowners several years to recuperate the costs of such investments. If they are not allowed to raise rents in the meantime, but do pay higher tax on their properties, they may be better off selling.
Parliament could ban short-term leases
There could be even more regulation coming. The ruling Christian Union, the smallest party in Prime Minister Mark Rutte's coalition, has joined the left-wing opposition in calling for a ban on temporary leases. The liberal D66 and VVD (my party) are wary.
De Jonge and his Christian Democratic Appeal — the fourth party in the government — would only allow short-term rental contracts for students and recent divorcees.